Government must honor Okinawans' rejection of new US base construction in Henoko following the election of Tamaki Denny as Okinawa governor
Statement by National Confederation of Trade Unions (Zenroren) ,
Secretary General NOMURA Yukihiro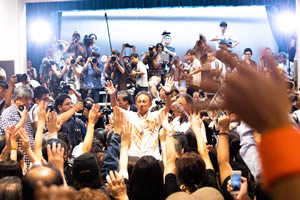 We are celebrating the victory of Tamaki Denny in the September 30 gubernatorial election in Okinawa. Backed by the suprapartisan "All-Okinawa" movement, candidate Tamaki garnered 396, 632 votes, the most ever won in Okinawa's gubernatorial election.
We would like to commend our comrades with the Okinawa Prefectural Federation of Trade Unions for doing their utmost as a member of the "All-Okinawa" movement. We also express our gratitude to Zenroren-member federations and local organizations around the country for extending support to the campaign for Tamaki. We believe that this victory was made possible by a nationwide united effort, which dealt a heavy blow to the government of Prime Minister ABE Shinzo. The victory, without doubt, is a milestone in the effort to further develop joint struggle by the citizens' movement and opposition parties.
The election was held following the sudden death of former Governor ONAGA Takeshi, who always stood for the people of Okinawa Prefecture and passed away before completing what aimed to do. The election of a new governor taking over the late governor's unaccomplished promise confirms that "the withdrawal of the plan to construct a new base in Henoko, the dismantling of US Marine Corps Air Station Futenma, and economic development that does not rely on US military bases" are all that the people of Okinawa want. This is why Tamaki beat the ruling party-backed contender by a large margin of 80,174 votes.
The central government should agree to set up a meeting with Okinawa prefectural government, scrap the construction plan without taking issue with the prefecture's revocation of the landfill permit for a new base in Henoko in line with the prefectural people's consensus and do all it can to negotiate with the United States. We demand that the government stop trampling upon the prefectural people's consensus by using government grant to local governments hosting US bases as bait and end authoritarianism.
We will work to further strengthen solidarity that has been developed between Okinawa and the rest of the country through the gubernatorial election campaign. We will work closely with the "All-Okinawa" movement that supports Governor Tamaki Denny to win the drastic reduction of Okinawa's burden of hosting US bases, a revision to the Japan-US status of forces agreement, and an end to the deployment of Osprays.
Convinced of the historic victory in the Okinawa gubernatorial election, we will concentrate our energy on the movement against the adverse revision of the war-renouncing Article 9 of the Constitution and the substantial increase in military spending and on the movement to abolish the consumption tax and demand improvement of the social services. We will step up confrontation to the runaway government of Prime Minister Abe and join forces with workers and people of all strata to force the Abe Cabinet out of power.