More than 350,000 petition signatures calling for 'No adverse amendment to Article 9' presented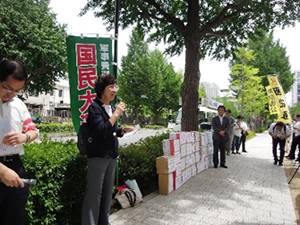 The National Movement Organizing Committee, which includes the National Confederation of Trade Unions (Zenroren), on June 7 held a rally near the Diet and submitted to the Diet 352,643 signatures calling for "No adverse amendments to the Constitution's Article 9". These signatures were collected in the campaign to collect "30 million signatures."
The action took place at a politically tumultuous time. Lies of Prime Minister ABE Shinzo's government have been exposed one after another over a suspicious sale of national land to operator Moritomo Gakuen and dubious licensing of a veterinary school to be operated by educational institution Kake Gakuen. A sexual harassment by a senior Finance Ministry official came to light. Nevertheless, Prime Minister Abe's administration would not take responsibility for all these undemocratic political behaviors. What's more, the ruling parties used their force of numbers to get the Diet enact so-called "work style reform" legislation, which enables employers to force workers as long as they can.
Zenroren Vice President NAGAO Yuri's speech at the rally is as follows:
Today, we are presenting 352,643 signatures. This is our second action after June 7. In the "30 million signature campaign," the Joint Center for the Constitution, which includes Zenroren, has collected more than 15 million signatures.
I know that people are now collecting signatures at this time somewhere; people are standing on the streets calling for letting the Constitution guide; and people are visiting door to door collecting signatures. Yes, the "30 million signature campaign" is under way in various places in the country. In the more than eight months of campaigning, we have collected so many signatures, crippling Abe's setschedule for revising the Constitution and making it impossible for the government to initiate a procedure for constitutional revision in the current session of the Diet. It has created a situation in which it is difficult to call a session of the Constitutional Research Council by the end of the current Ordinary Session of the Diet. This has been made possible by opposition parties which are advocating constitutional democracy and are in agreement on the issue. There are moves to drive a wedge into unity of opposition parties. But the power of the citizens' united movement is serving as the driving force for promoting joint action by opposition parties. We can be convinced of this power.
In our signature collection effort, we are sharing our rejection of war and anger at Abe's politics of lies with many people, opening dialogue with them. This is why I want to emphasize that a signature campaign provides the power to change public opinion. But we have just reached the level of the 20 million signature campaign demanding the repeal of the War laws. That's the number of supporters of opposition parties of constitutional democracy in the Diet elections. Unless we can go beyond this level, we will not be able to put an end to Abe's rule.
It is important to reach out to conservatives who are worried about the future of this country and those people who are reluctant to go to the polls thinking that his or her vote would not help change anything. I want to call on you to ask such people to give their signatures so that we can achieve the collection of 30 million signatures.
Prime Minister ABE Shinzo and Finance Minister ASO Taro should have been kicked. They may not have a sense of responsibility for what they have done. They have always tried to be evasive in the Diet. They have always showed a half-smile instead of responding to questions. How shameful it is for them to take such an attitude! We cannot show children how they are behaving.
Let us get back politics acceptable to everyone. This is what many people might want. Let us use the power of the 30 million signature campaign to force the Abe government to go, because that's the way to stop the move toward adverse constitutional revision.
We must not let the current session of the Diet close without fulfilling the tasks we are calling for. Let us together throw an anger at the Diet. We must not condone the railroading through the Diet of the bills on "work style reforms" and TPP (Trans Pacific Partnership) agreement. We are beginning the struggle to stop their implementation. The casino bill that legalizes gambling must be scrapped. The Abe administration is making us suffer on various issues. It is undermining democracy. Let us together express our rejection of the Abe administration at the July 19 Day of Action by saying "We can no longer keep silent." July 19 Day of Action is a part of action on the 19th day of the month, which began on September 19, 2015, the day when the War Laws were railroaded through the Diet. Key ruling party politicians publicly said, "People will soon forget about it if the bills are enacted." No way! We cannot forget about it or give up fighting for the sake of the future of our children and grandchildren. The July 19 Day of Action is the 34th monthly action.
Historic efforts by dialogue and diplomacy are set in motion to achieve a peaceful and nuclear weapon-free Korean Peninsula. Last year, as the Abe administration was crying about the threat of North Korea, we said we must never allow war to be waged, emphasizing that the need is to carry out diplomacy guided by Article 9. We have been reaffirmed the power of the war-renouncing Article 9 of the Constitution. The 30 million signature campaign is about petitioning for Article 9 to be defended and for government policies guided by the constitutional provision for peace, human rights and democracy. Let us join our forces to achieve these demands. We will continue to develop this signature campaign also for peace in Northeast Asia.