Campaign focuses on legislature@|Spring Struggle at phase II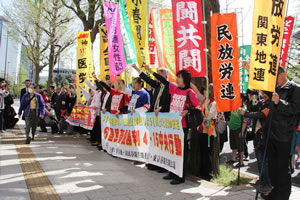 The National Confederation of Trade Unions (Zenroren) and the Tokyo Joint Spring Struggle Committee on April 15 organized a Day of Action marking the start of the second half of the annual Spring Struggle.
Union members converged on the National Diet (parliament) for central action focusing on the struggle to "STOP" the runaway politics of the Abe government, to win a minimum wage of more than 1,000 yen per hour everywhere, and to prevent the adverse revision of the labor laws. They also took part in global day of action in many parts of the country for fast food workers.
In Tokyo, union members assembled at Ikebukuro Station in solidarity with the global action for low-paid fast food workers holding action across the world demanding a right to organize and pay raise from the bottom up. Zenroren and other unions participated in the global action for a third year in a row since 2014.
About 700 workers took part in the central rally early in the afternoon in front of the Ministry of Health, Labor and Welfare, demanding a substantial increase in the minimum wage and the introduction of the national uniform minimum wage system, and opposing the adverse labor law reforms.
ODAGAWA Yoshikazu, chairman of the National Joint Committee for the Spring Struggle and president of Zenroren, spoke on behalf of the organizers.
He began by expressing condolences to those who were killed in a strong earthquake that hit the southwestern Japanese region of Kyushu. He also expressed sympathy for the large number of people who lost their homes.
He said, "We are developing a united movement to achieve one common aim, that is to stop the worst ever government that destroys peace, completely ignores democracy, and fails to oppose special interests. We are doing this in conjunction with our efforts in the second half of the Spring Struggle. What we need is NOT a country that becomes the easiest place in the world for the large corporations; what we need is a country that confronts poverty and economic inequality. Let us concentrate on the demand for jobs both in quality and quantity."
Five activists from various federations expressed their determination. Rally participants marched in demonstration to the Diet.
Speeches by federation representatives
HIRAKAWA Shuichi, vice president of the Japan Federation of Publishing Workers' Unions
There is a workplace where three workers died in a year. Workers there are not entitled to paid holiday. They are not covered by social insurances. They are left without regular medical examination. These extremely low-paid workers are forced to endure working conditions in which they are deprived of the right to humane life. We have been fighting for a minimum wage increase and the establishment of a national uniform minimum wage system. As part of this effort, we have been fighting for a labor agreement on an in-house minimum wage and for its raise. In the current Spring Struggle we have won a raise of the in-house minimum wage at 9 companies. We will continue to do our utmost to raise minimum wages nationwide.
KATSUMI Shinobu, secretary-general of the Yamagata Prefectural Federation of Trade Unions
Yamagata Prefecture's regional minimum wage is 211 yen lower than that of the group that includes Tokyo and some other prefectures with the highest minimum wage. Most of local business leaders say that small- and medium-sized businesses do not see Abenomics benefit them. They are also concerned about the population outflow continuing without interruption. They say the need now is to make an effort to close the wage gap. Many people are interested in the findings of the cost of living survey. War and growing economic gaps are two sides of the same coin. We will organize a new successful survey on cost of living in six northeastern prefectures.
OBA Nobuko, vice chairperson, IBM Japan branch, Japan Metal, Manufacturing, Information and Telecommunication Workers' Union
Five workers won a lawsuit against IBM Japan's wrongful lockout and dismissals. The company had repeatedly offered an out-of-court settlement but none of the plaintiffs accepted the proposal. Our anger was profound. We cannot accept any monetary settlement. We have been working with pride. We simply refuse to be thrown away. We are aiming to win all the lawsuits for a total settlement.
MIURA Nobuko, secretary |general of the Japan Federation of Medical Workers' Unions
We have been fighting to win improvement of the terrible working conditions and extremely low wages for workers in healthcare, nursing care and other welfare services and to break off the vicious circle of a shortage of workers.
Some of our member unions have successfully won a monthly salary increase of more than 10,000 yen. Sixty-nine unions have won a pay increase for part-time and other contingent workers.
The Japan National Hospital Workers' Union (JNHWU/ZEN-IRO) demanded that wages be improved in order to secure the necessary workers at childcare centers in the national hospitals. While making organizational buildup efforts, the union has won a monthly salary increase of 23,000 yen on average, and a more than 100 yen per hour increase for casual workers, thus ensuring that all the childcare workers are paid 1,000 yen or more. We will continue to fight to win a minimum wage of 1,500 yen per hour while increasing the union's membership.
SUYAMA Mitsue, Central Executive Committee member of the Co-op Net Group Union affiliated with the National Federation of Consumers' Cooperatives Workers' Unions
In Niigata Prefecture, the minimum wage is so low that a worker, who works 8 hours a day and 20 days a month, does not even earn 120,000 yen a month. An increasing number of Co-op workers are forced to work two or three jobs to earn a living. Niigata Prefecture had the nation's third largest population outflow last year. If this trend continues, local communities will collapse. A minimum cost of living survey shows that at least 1,402 yen per hour is needed to support living in the prefecture. We have also found that this level of cost of living applies everywhere throughout the country. There is no reason to say the minimum wage can be lower in local areas. Ranking prefectures is not necessary.
Speeches at fast food global action in Ikebukuro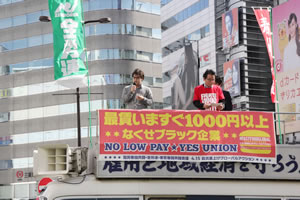 KIKUCHI Ryota, Zenroren |National Union of General Workers
Prime Minister ABE Shinzo assured the people that Abenomics will help improve Japan's economy. He said Abenomics will help large corporations' profits to trickle down to small- and medium businesses as well as working people. I do not feel that way. The consumption tax rate has been raised and prices are going up. Most people are affected by the rising cost of living. We should express anger at the government that would not work to improve the country's minimum wage, which is too low internationally, or to help small- and medium-sized businesses. If the workers join forces and raise their voices, it is possible to change society and workplaces.
HARADA Niki, AEQUITAS
We are organizing demonstrations and publicity campaigns demanding a minimum wage of at least 1,500 yen an hour. By working 8 hours per day and five days per week for 1,500 yen per hour, you will only earn 2.8 million yen per year. That's not high at all. The important thing is to work. Everyone wants to work with pride. But they have difficulty having a prospect of a bright future. In order to build a society that gives us hope, we demand a living wage for eight hours of work.
TAMIYA Takanori, deputy secretary general of the National Union of Welfare and Childcare Workers
The Abe government recently said it would do something to support childcare and to stop people from having to quit their jobs for family care. Childcare and other care workers are extremely low paid. Their wages are far from satisfying those who work using expertise and enduring a tense atmosphere. If conditions for childcare and nursing care are to be improved, and if everyone is to take active part in society, treatment of those workers should be drastically improved and their wages should be raised substantially.
MIKI Ryoichi, secretary general of the Japan Metal, Manufacturing, Information and Telecommunication Workers' Union
The Abe government is considering creating a society in which employers have freedom to fire workers at any time. If that happens, workers would not be able to demand a pay rise; workers who demanded overtime pay or anything else. Once dismissed, a worker would not be able to live a normal life. The point is that the employer will have the right to dismiss workers at their will. We will continue to fight to stop the creation of a society in which employers have the freedom to dismiss workers.