Achieving a wage increase is a pressing task everywhere in the country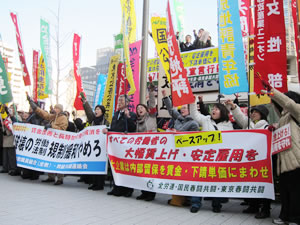 A call for 2014 Spring Struggle, which is essential for pulling the economy out of deflation
ITOH Keiichi
Director of the Research Department of the National Confederation of Trade Unions (Zenroren)

Introduction
Putting an end to the deflation has been pursued as a major national policy goal in Japan, and the government in this context has begun to argue for gpay raiseh. In February 2013, Prime Minister ABE Shinzo asked the three major business organizations to cooperate in raising workersf compensation. The New Komeito party also made a similar request to the Japan Business Federation (Keidanren). On March 29, the National Land, Infrastructure, Transportation and Tourism Ministry issued an instruction that said inadequate wages and working conditions are the causes of a shortage of skilled workers at public works projects and called for a 16 percent increase on average in unit price in public works that start in April 2014 (and 21 percent increase in the three prefectures that were hit by the March 11, 2011 earthquake and tsunami in northeastern Japan). On July 2, the Health, Labor and Welfare Minister requested the Central Minimum Wage Council to recommend a raise in order to create a virtuous business cycle.h

It is true the governmentfs stance on the issue of wages gradually became positive during the Diet session, apparently reflecting workersf movement called for by Zenroren and the National Joint Spring Struggle Committee as well as the Japanese Communist Partyfs parliamentary and extra-parliamentary efforts. JCP members of the Diet have been very active in raising the issue in parliamentary discussions and forced Prime Minister ABE Shinzo and Finance Minister ASO Taro to admit the need for a pay raise and the fact that large corporations have amassed huge amounts of internal reserves. In fact, while large corporations have enormous amounts of internal reserves, they are dumping prices paid for supplies to small- and medium-sized firms. This in turn encouraged employers to use more contingent workers and hold down wages. It has also discouraged investors from investing in Japan. Ending the distorted distribution of wealth without doubt has decisive importance for improving peoplefs livelihoods, putting the economy on a recovery track, and restoring fiscal health, but it has been consistently rejected or ignored by the financial circles and their ideologues. But lawmakers in the National Diet (parliament) have acknowledged the existence of the internal reserves.

Expectations should be running high for an end to the deflation that has held down wages. But that seems to be too optimistic. Abe spoke about corporate internal reserves, but he does not know the money amassed by the large corporations as internal reserves should be used. Instead of using a part of internal reserves to improve and expand social services and help to make post-disaster reconstruction more effective, Prime Minister Abe decided to force working people to pay more in tax through raising the consumption tax rate but cut corporation tax -- a measure that gives companies favorable treatment. At a meeting held in September by government officials, business leaders and labor representatives, Prime Minister Abe requested the business leaders and labor leaders to raise wages using corporation tax breaks as an incentive to give workers annual salary increase. The measure will only benefit some large corporations and help them further increase their internal reserves. It does not merit small- and medium-sized businesses or workers there. To begin with, the Abe administration, while calling for wage increase, is insisting on the need to ease regulatory rules that are binding corporate activities, saying it is necessary to make dismissals easier and reduce working hour restrictions.

Are we in a pinch regarding the present situation relating to our struggle for higher wages? Or should we take this situation as an opportunity? Probably we are facing both. Even the prime minister cannot deny the need for wages to be increased if the deflation is to be ended. In addition, it has been widely known to the public that large corporations have huge amounts of internal reserves that are enough for giving workers a raise, and a part of them could be used to improve peoplefs living conditions. The key to secure money for these needs is trade unionsf struggle for better wages. And this struggle is widely supported by the public. Whether we can seize this chance and create a favorable situation depends on movements we are to develop. I want to discuss below how we should develop activities to advance the struggle to win a raise, which is essential to get the economy moving again.

1. Japanese workers today are paid less than 15 years ago
The Japanese workersf wages have continued to decline since they peaked in 1997. In 2012, the income of 45,560,000 private sector salaried workers working throughout the year was 4,080,000 yen (about 40,000 US dollars), down 590,000 yen from 1997. In 2009, when the labor market was in worse shape following the collapse of Lehman Brothers, the average salary decreased by 237,000 yen or 5.5%. Salary levels have not even recovered from the 2009 level. No wonder that consumers are discouraged from spending money. Some say, gWe cannot help but to accept the declines of salaries. It is also impossible to stay away from price wars with developing countries or to stop industry structural changes and shifting production from Japan to overseas.h But thatfs wrong. Look at OECD data and you will find wages rising in many other countries despite their being part of the global economy. Only Japan is experiencing protracted declines of wages. The same is true of changes in real wages.

Why wages are falling only in Japan? Is it because Japan has made adjustment because wages are higher than other countries? No, that is not so. Wages in Japan cannot be higher than other countries today as well as in 1997.

Japan is not the only country to suffer a protracted economic recession. No one can deny the enormous adverse impacts that the March 11, 2011 earthquake and tsunami and a nuclear accident had on the nationfs economy. The Japanese economy boomed during the six years up to February 2008 and large corporations were able to amass internal reserves while wages continued to decline.

Are Japanese employers excessively harsh on workers? This question may have relevance today when gblack companiesh are rapidly growing in number. The fact is that an economic crisis triggered by the collapse of Lehman Brothers drove employers in many other countries as well as Japan to propose corporate restructuring policies. Carlos Ghosn (Nissan Motor Co. CEO) and others who run foreign-owned companies such as IBM Japan are as cold-hearted as Japanese corporate leaders in terms of methods they used for company restructuring.

In Japan, did companies try flexibly to cut wages for the sake of protecting jobs? Corporate leaders have said that wages should be held down in order to secure jobs and that the unemployment rate is lower than Western countries. But the ratio of contingent (casual) workers to the entire workforce has risen from 20 percent in the mid 1990s to 30 percent. The number of employees who earn less than 2,000,000 yen a year was 8,000,000 (18 percent) in the latter half of the 1990s. It increased to 10,900,000 (24 percent) in 2012. An increasing use of contingent workers replacing regular full-time workers helps in increasing low-paying and precarious jobs. As clear from the fact that falling wages were preceded by an increasing use of contingent workers, Japanese employers have held down wages and destroyed jobs at the same time. How can Japan be applauded for its relatively low unemployment rate? In Japan, public assistance to unemployed is so inadequate that you must be very careful not to lose jobs in the first place. Only 20 percent of unemployed are covered by unemployment benefits. In Japan, the percentage of households which are under poverty level but which do not receive the public welfare benefits is very low, so is the ratio of welfare assistance users to the nationfs population. You cannot easily count on social welfare services and will have to take a job even under very bad working conditions. All this accelerates the trend of replacing regular full-time workers with contingent workers and of lowering wages.

2. Why wages fell in Japan alone?
(1) Japanese capitalism without rules and low wages

Why wages are falling only in Japan compared to the rest of the capitalist world? It is because Japanese capitalism is without rule and always gives priority to making profits regardless of workersf jobs and safety-net services.

A third of workforce is made up of contingent (casual) workers. Many of them are sort of disfranchised and cannot earn livable wages. This labor contracting at the cost of workers is being practiced in Japan. It can hardly be acceptable in Germany, France and elsewhere in Europe. In 1995, the Japan Business Federation (Keidanren) issued a business leadersf policy for what they claimed gJapanese-style management in a new erah. Exactly in line with this policy, the financial circles and large corporations have replaced many regular full-time workers with contingent workers, increasing precarious jobs. The Japanese government has supported this policy. Arguing that this is necessary for the survival of Japanese businesses in a major competition in a globalized world, they are keeping wages as low as possible and carrying out cutbacks in social services, including unemployment benefits. The need now is to break away from capitalism without rules, which has been promoted by the business circles and the government. This is the way to help increase peoplefs incomes, pull the economy out of the deflation and lift the living standards of all people. I have to point out some issued that must be addressed by the workers and people fighting against attacks from the government, the business circles and large corporations. I will deal with it in the next section.

(2) Six causes of wages being held down

I would like to explain the following six points that lie behind falling wages in Japan: (i) The annual wage talks are well preset and managed, and there are unions that exercise restraint on their wage increase demands; (ii) Wage disparities remain unsolved; (iii) Even the insufficient labor laws have been adversely revised; (iv) Union density is declining and Japan lacks systems in which wage increase can have a ripple effect on society; (v) Fair trade is not an established practice and government policies for small- and medium-sized businesses are vulnerable; and (vi) The government takes a lead in holding down wages.

<1> gManaged annual wage talksh and unions restraining from demanding wage increase

In Japan, trade unions hold annual wage talks in spring, which is the Spring Struggle. It began in 1955. But after labor won a 33 percent increase in 1974, the role of the annual labor talks changed, when the employers proposed making productivity the criterion for setting wage levels in order to confine wage increases within added values. The metal industry union responded to the proposal by arguing for what they called gwages in line with economic growth.h They made it a rule to confine their demand for wage increase within the framework of the economy. The trade unions at large companies, which played a role of setting a pattern, began to exercise restraint in demanding wage increase. This is how gmanaged spring struggleh works to keep wage increase as small as possible. There has been no double digit percentage wage increase since 1975, when labor won a 13.1 percent pay raise. Wage increase was 5 percent in 1991 and below 2 percent from 2002.

In the 2013 Spring Struggle, the automobile and other export-oriented industries, the mega banks and general contractor construction companies were in good shape thanks to the stronger yen and rising stocks that made favorable changes in the economic environment and to massive public investment in post-disaster reconstruction projects. But the major unions in the private sector, affiliated with the Japanese Trade Union Confederation (Rengo), criticized the government call for wages to be increased as gintervention in labor-management autonomy.h In addition, Rengo unions chose not to demand a basic pay raise. They only accepted the offer to maintain the annual pay raise and an increased bonus. It was like workersf determination to win a wage increase was thwarted before the start of a spring struggle. Wage talks went particularly difficult for workers in non-export-oriented industries and small- and medium-sized businesses which suffer damage from weakening yen.

By contrast, among the unions participating in the National Spring Struggle Joint Committee, 69.7 percent submitted their demands for wage increase, and 11.3 percent went on strike. Although these numbers are not very high, many of these unions strenuously negotiated with management and won the average increase of 5,927 yen per month (1.99 percent), up 1.86 percent from the previous year. Equally, contingent workers won a pay raise of 24.4 yen per hour, up 3.3 percent from the previous yearfs 1.2 percent increase. Some of these unions also won various demands other than wage increase. Fixed-term contracts were converted into contracts without terms limited at some companies. There were also companies at which treatment of elderly workers was improved or the paid holiday system was improved. As for summer bonuses, unions won almost the same level, the average being 643,412 yen, as in 2012 despite reluctance employers showed on the grounds that the business outlook is uncertain and that costs are rising due to the rising prices of raw materials and rising utilities.

The efforts to achieve these gains deserve high evaluation. However, the level of what has been achieved in the struggle over wages is short of the 2 percent inflation goal as set by what the government calls Abenomics policy. Given the price increases, the levels of wages are status quo. And 80 percent of the nationfs workplaces are not unionized, where workers are not given annual pay raise. All this suggest that real wages may fall further.

<2> Wage disparities

The second factor can be found in wage disparities. According to a 2012 survey by the National Tax Agency, the average income of workers who worked all year round was 4,680,000 yen for regular full-time workers (5.21 million for male and 3.5 million for female workers), and 1,680,000 yen for contingent workers (2.26 million for male and 1.44 million for female workers).

The Health, Labor and Welfare Ministryfs survey on wage structures finds that the average salary excluding overtime pay for regular full-time male workers is estimated at 5,200,000 yen a year, which is 2,627 yen per hour. Index this figure to 100 and you will find regular full-time female workers are paid only 71, fixed-term full-time male employees 57, and fixed-term full-time female employees 45, and part time (shorter time) female workers (fixed-term or not) 38.

Wage disparities will pave the way for overall decline in wages. The wage gap between men and women and between full-time and contingent workers makes it easy to push down overall wages, resulting in lowering wages for regular full-time male workers. The structure of differentiating regular full-time workers and contingent workers preserves the wage gap and helps in the reduction of overall labor cost.

<3> Adverse revision of the labor laws that are already inadequate

The third factor for declining wages is the labor laws, which are incomplete or adversely revised. The worst of all those labor laws is the Minimum Wage Law. In the summer of 2013, we won an increase of 11 to 22 yen per hour. Still the nationfs highest minimum wage is Tokyofs 869 yen, followed by 868 yen in Kanagawa and 819 yen in Osaka. Only these three prefectures have reached the 800 yen mark. Twenty-five prefectures have the 700 yen mark and 19 prefectures the 600 yen mark. If you work 1,800 hours for only 1,200,000-1,560,000 yen, your income would be below the poverty level. You are exactly classified as working poor. In 2010, the government, labor and employers had a dialogue on employment strategy and agreed to eliminate areas of the minimum wage at 800 yen and to raise it to the average of 1,000 yen in 2020. There is a long way to go there.

The 1986 Worker Dispatch Law broke the principle of direct employment, helping in the further lowering wages. In 2004, employers were allowed to use temporary agency workers in manufacturing. Many temps were hired at worksites in the auto and electronics industries. But these temps are paid only 30 or 50 percent of what regular full-time workers are. This deregulation further accelerated a race to the bottom in wages. Following the collapse of Lehman Brothers in 2008, about 157,800 temporary agency workers were forced out of job. Joblessness and economic recession further exacerbated and wages went down rapidly.

The overuse of fixed-term contract workers, coupled with the lack of equal treatment principle, is a source of declining wages. The use of fixed-term contract workers should be allowed only for temporary jobs, but it is actually a permanent phenomenon in many workplaces. Those casual workers feel uncertain every time they have to renew their contracts. In such condition it is very difficult to demand a wage increase. In addition, despite recommendations from the United Nations and the ILO, the Japanese government is reluctant to establish the principle of equal pay for equal work by law. This is why even the skilled workers on a fixed-term contract are forced to endure low wages.

<4> Low union density and lack of a system in which wage increase can have a ripple effect on society

As the fourth factor I must cite the lack of a system in which wage increase can have a ripple effect on society. In Japan, trade unions organize less than 18 percent of employees. Unions representing 15 percent of all workers submit their demands in annual wage talks. Only 10 percent of them are estimated to have drawn offers from management.

In Germany, where 19 percent of workers are organized, labor agreements on wages are applied to 63 percent of all employees, including those who are not union members. In France, only eight percent of all workers are union members, but 90 percent are covered by labor contracts. In these countries, the expanded application of labor contracts is guaranteed by law despite the low union density. Gains won by the union through bargaining concerning wages and working conditions are applicable to the many unorganized workers as well. In Japan, too, we have the Trade Union Law that provides for a system of expanded application of labor agreement (Article 18 on general binding power for a particular region). But for the system to be applied, it is necessary to meet the requirement that the agreement must be applicable to most of workers in the same category. So, the provision is actually inapplicable. The Japanese system that bars union gains from having ripple effects is a main stumbling block to pay raise.

<5> Governmentfs poor policy for small- and medium-sized businesses and the need to establish rules for fair trade

The fifth factor is the financial difficulty facing small- and medium-sized businesses, which employ 70 percent of the Japanese workers. In the annual meeting of the Labor Ministryfs Minimum Wage Council, laborfs call for a raise is always thwarted by the business sectorfs argument that small- and medium-sized businesses would go bust. But what happened when the minimum wage was raised in European and other countries shows that a minimum wage increase would help further develop regional economies and benefit small- and medium-sized businesses. In the council, employers are only concerned about the immediate cost for a minimum wage raise. They lack the viewpoint of economic cycle.

Of course, it would be difficult for small businesses to raise the minimum wage under the present circumstances. But the thing is that it is difficult to shift increased costs to consumers. Costs needed to improve the currently too low wages should be shifted appropriately to prices, which should be paid by parent companies and consumers with the ability to pay. But this cannot happen because of the absence of rules of fair trade. The need now is to allow small businesses to shift reasonably increased costs to prices and force large corporations to pay certain costs by legislating a law to protect subcontractors that would include a system of damages payment and incorporate the charter on small- and medium-sized businesses into a law as a measure to institutionalize the concept that protection of small- and medium-sized businesses constitutes a social safety net.

<6> Government-led wage cuts
There is one more factor for falling wages: the government-led trend of wage cuts. While asking employers to raise wages, the Abe administration has imposed a 7.8 percent salary cut on government workers. The percentage is near the upper limit of amount for disciplinary punishment under the Labor Standards Law. This measure was a product of collusion between the former Democratic Party government and then opposition Liberal democratic and New Komeito parties. The present Liberal Democratic and New Komeito coalition government is seeking to apply the same cut to independent agency workers and local government employees. An Internal Affairs and Communications Ministry report issued on August 2 said, g1038 local governments, which account for 58 percent, cut salaries for their employees.h It put pressure on the rest of the nationfs local governments (368 which are considering doing so; 230 which have no plan to do so; and 20 which decided not to do so after their respective local assemblies rejected the idea). Likewise, the education ministry pressured independent agencies that run national universities where labor relations are exercised without government intervention. Employers at such independent agencies have been unable to reject government pressure and carried out salary cuts.

The wage cut policy promoted by the government goes against the effort to end the deflation and has damaging effects on the Japanese economy and workersf wages.

3. Abenomics and the 2014 Spring Struggle
(1) Unions are unanimous in calling for gwage increaseh

I have said that wages are falling due to Japanfs gcapitalism without rulesh and the lack of union strength. The need now is to change the balance of power as quickly as possible, but we are witnessing the increasing pressure being exerted by multinational corporations.

In the tripartite meeting of government, employers and labor on September 20, Prime Minister Abe asked the financial circles and labor to support his policy by stating, gThe economy is moving out of the deflation. The question now is whether this trend is conducive to a favorable business cycle that will create more profits, increase wages and provide more jobs.h

Trade unions at major corporations are demanding a wage increase for now. In September 2013, the Japan Council of Metalworkersf Unions (JCM) at its regular convention called on its member federations to consider demanding positive improvement in wages. The call was supported by the Confederation of Japan Automobile Workersf Unions; the Japanese Electrical Electronic and Information Union; the Japanese Association of Metal, Machinery and Manufacturing Workers; the Japan Federation of Basic Industry Workersf Unions; and the Japan Federation of Electric Wire Workersf Unions. The Japanese Federation of Textile, Chemical, Food, Commercial, Service, and General Workersf Unions also expressed willingness to achieve a positive pay raise through labor talks.

While the business leaders maintain that wages would be improved if business performance improves thanks to corporate tax breaks and deregulation and that wage increase depends on individual decision, labor as a whole is set to demand a wage increase for the first time in several years. This should be welcomed as a significant step forward.

(2) Abbenomics will open up a trend of lowering wages and undermining livelihoods

Abenomics will necessarily bring about declines in wages. Prime Minister Abe argues that if Japan eases labor market regulations (by increasing labor mobility and destroying work-time regulations), it will become the best country for companies to do business and will bring about a favorable cycle of economic growth.

However, increasing labor mobility and allowing employers to replace more regular full-time workers with contingent (casual) workers will only lead to cutbacks in wages and an increase in precarious employment. Easing work time regulation is tantamount to legalizing unpaid overtime work (forcing workers to work for less) and making excessively long working hours prevalent, which in turn decreases the number of jobs. Replacing more regular-full-time workers with contingent workers and imposing longer working hours on workers will lead to declines in union density and make unions less active.

Cutbacks in welfare assistance, pensions and child allowances will also lead to spreading low-paying jobs, because an increasing number of job seekers would be forced to take a job even if it is low paying.

The planned consumption tax (sales tax) increase will deal a heavy blow to small- and medium-sized businesses, which are unable to shift he increased tax burden onto prices. Far from helping raise wages, it will very likely encourage employers to cut wages and to go ahead with job cuts under the name of corporate restructuring and force more companies to go bankrupt or give up doing business. The tax increase will also further discourage consumers from spending money and force companies to keep on selling products at low prices at a time when prices of fuel and raw materials are rising. Tax cuts for corporations will not help in anything for small- and medium-sized businesses, which employs an overwhelming majority of workers.

In addition, even those firms which are fortunate enough to achieve business recovery will further hold down wages and will use profits for share holders dividends, speculative investments, and internal reserves. That actually happened in the past boom between February 2002 and February 2008.

In sum, the argument that gpay raise is necessaryh within the framework of the Abe administrationfs ggrowth strategyh is nothing but a sophistical argument invented to cover up the favorable treatment of multinational corporations and attacks on labor. We must look at the reality of our country, in which it is very hard to maintain decent livelihoods. We must not be deceived by Abenomics. We must continue to fight against adverse revisions of the labor laws and against deregulation. This struggle is essential for developing the struggle for better wages.

(3) 2014 Spring Struggle will focus on the nationwide task: Wage increase

Wage increase is a nationwide task that is so urgent for ending the deflation that even the government is compelled to argue that pay raise is necessary or that the corporations should use a part of their internal reserves to do so. The government should not ignore the voices of the workers: gWe donft tolerate any policy that goes against pay raise. We demand improved measures for small- and medium-sized businesses and for the development of local economiesh; gPolitics must do its part to substantially raise wages for government employees, the legal minimum wage, and wages for workers engaged in public works for local governments.

NEZU Risaburo of the Fujitsu Research Institute says a nominal 4% or more wage increase is needed to achieve the goals of 2% inflation and economic growth of 3 or more percent. This being the requirement, our struggle for higher wages must be dramatically strengthened to more than double what we gained in the 2013 Spring Struggle at every negotiating unit. We should spread the gains to benefit all workers including unorganized workers.

Above everything, we should be convinced that we are rightly demanding a substantial wage increase, remembering that the 1997 wage levels were 10 percent higher than today. We are just trying to restore the lost ground. Workers in the major industrialized countries each year win 3 percent or more of wage increase on average. What we are trying to do is win a pay raise just as workers in other countries are doing. Given the fact that the government, which has the great power in wealth distribution, is calling for a wage increase, it would be natural for the government to improve conditions for it, such as addressing the development of small- and medium-sized businesses and regional economic development projects.

4. Union struggle for higher wages ? Basic position and tasks

(1) Basic position of the effort to rebuild the struggle for higher wages

In this section I will deal with what the unions should do to reverse the long declining trend of wages in Japan.

First, we should increase the number of workers who exercise basic labor rights. There are many workers who do not know about the basic labor rights (including rights to association, collective bargaining, and collective action), the labor standards (the principle of making decisions between labor and management on an equal footing; the need to guarantee workers livelihoods worthy of human dignity and implement regulation on the minimum wage; workplace safety and workersf health, etc.) and the Labor Contract Act. They are unaware of any violation of workersf rights. We should make efforts to bring the workersf rights home to workers, help them get aware that one can be a full-fledged worker only when he or she joins the union and increase the number of workers who voice their demands. Without this we cannot advance the struggle for better wages.

Second, the union must improve its unifying force and strengthen the effort to achieve workersf demands. The first thing to do is to encourage as many unions as possible to submit their demands to management. Without putting forward the demands of workers, there can be no collective bargaining or realization of demands. Regardless of business performance or the state of the economy, unions should vigorously promote dialogue and discussion with friends and compile workersf demands for improvement in livelihoods along with how they feel about their jobs and what they think about the need to narrow economic inequalities. Those unions that are unable to submit the workersf demands should examine their organization based on the basics of union activities with help from the industrial federation or regional union organizations.

In dealing with the issue of wages, we need to make efforts to help workers convinced of the just demand for pay raise. Amid an increasing use of categorized pay systems, such as performance based pay and role-based pay, the management ideology encouraging self-help efforts to increase wages is infiltrating workers. In order to take up the issue of wages from viewpoint of workersf unity, it would be necessary to emphasize the cost of living principles. It is important to know the coworkersf wages and examine them on blot charts to find whether there are unjust disparities or extremely low wages below the cost of living and demand that any workers be guaranteed wages that meet the minimum cost of living by taking into account the pay systems and how profits are being distributed.

Third, we should reaffirm the importance of demanding a basic pay increase above everything. There is an increasing tendency among trade unions to demand annual pay raise. But the annual pay raise system was introduced by the employers for the purpose of restraining workers from demanding a wage increase. The idea is that funds will not be increased for wages. Instead, taking into account the balance between the number of retiring workers and the number of new hires, the personnel cost for retiring workers would be distributed to individual workers so that each worker can be guaranteed wages higher than the previous year. The employers hoped to use this system to increase each workerfs satisfaction with wages and divert attention from the demand for basic pay increase. The seniority wage system may suit workersf demand for pay raise that enables them to make their life plan, but confining their demands to annual pay increase will weaken workersf participation in the struggle for wage increase and resistance to the imposition of categorized pay systems, and lead to lower wages.

Fourth, wage disparity must be corrected. The method of lowering wages by using differentiated wages constitutes an attack not only on workers at workplace levels but on society as a whole. Unions that work mainly on regular full-time workers are drawing criticism for gjust protecting the established interesth. There are calls for cutting public workersf salaries. These are causing discontent and anger from workers who are on precarious jobs and forced to work for less. Even though wage and other disparities are caused by employers, they are also used as leverage to divide workers. Considering this situation, it is important to actively demand improvement in the treatment of contingent workers through realizing stable jobs and improving wages.

Fifth, unions must step up actions, participate in concerted struggles and exercise the right to strike. In order to make up for the weaknesses of their being in-company unions, they should participate in or support industrial negotiations or group negotiations, and join regional/local federations in negotiations. These actions can demonstrate cross-union solidarity that will help enhance negotiating power. Unions should join in the day of action set by the federations or the national trade union center. As the number of leading activists who have experience with strike struggle is decreasing, an increasing number of unions are incapable of going on strike. In order for the unions to retain negotiating power, it is necessary for veteran activists to help younger people acquire technology in preparation for the 201 Spring Struggle.

Sixth, we should develop the struggle for institutional wages, viz., the legal minimum wage and wages in public contracts, and the struggle against adverse labor law reforms. Amid falling wages in the labor market, it will be difficult unionized workers alone to win a pay raise. We should pursue institutional improvement to give unorganized workers a raise, hoping this effort will offer an opportunity for organizational buildup. The central and regional minimum wage councils and the council on compensation for work under public contract ordinance provide socialized negotiations between labor and management. It is important for labor and management to use these councils to discuss the best possible wages, even though it would not be easy for them to reach agreement is, in order to elaborate the workersf demands.

Seventh, it is also important to create an environment that makes pay raise possible and expand policies to support small- and medium-sized businesses and help in the development of regional economies. In many cases employers of such businesses find it difficult to favorably respond to the demands of the workers. We will call for holding discussion with small business operators on how they can offer workers a pay raise, and if necessary we will ask the national government and local governments to take institutional measures to help them. Trade unions are not only working to win workersf demands but also putting forward various institutional demands to improve the environment relating to municipalities as well as companies and facilities, in cooperation with industrial federations and Zenroren. It is also important to ask employers to cooperate in urging the central and local governments to expand institutional measures for particular industries, oppose the planned consumption tax increase, improvement in social services, expansion of public services, improvement and expansion of measures to support small- and medium-s-zed businesses.

Conclusion
Unless trade unions demand that the employers increase laborfs share to increase wages, workers cannot get a pay raise even if there are favorable conditions. Is it right for the union to give consideration to the companyfs financial future and try to make a gresponsible demand for wage increaseh? Such a stance appears right, but if the union confines itself to demanding a wage increase within the companyfs ability to pay, it will not be able to win laborfs share that will be favorable to the national economy. The union should demand a pay raise even if the company does not amass internal reserves. The need is for the union to discuss with management why the company is unable to pay decent wages for the workersf hard work. We should not only make in-company efforts but go to the national or local governments to ask them to take the necessary measures and also change politics.

We are faced with a severe situation. But without pay raise there can be neither improvement in peoplefs living conditions nor revitalization of the Japanese economy. A national consensus in support of this truth is forming. We would like to advance the struggle for better wages with conviction in this truth.