On settlement of labor dispute at Nestlé Japan
Statement by:
National Confederation of Trade Unions (Zenroren)
National Council on Nestle Workersf Struggle
Nestle Japan Labor Union

October 1, 2013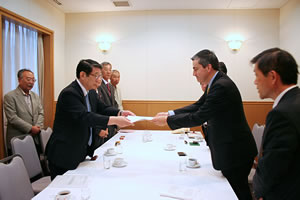 On October 1, 2013, the Hyogo Prefectural Federation of Trade Unions, the Nestle Japan Labor Union, and Nestlé Japan reached an agreement to settle a 31-year-old dispute at the multinational firm. Nestlé SA and the National Confederation of Trade Unions (Zenroren) attended the signing of the agreement, which is in line with the OECD Guidelines for Multinational Enterprises. The guidelines aim to ensure that the operation of these enterprises gstrengthen the basis of mutual confidence between enterprises and societies in which they operateh.

Many labor disputes have occurred in many countries with Switzerland-based multinational food and beverage company Nestlé, as the global food company has been charged with violating the OECD guidelines. In Japan, the Nestle Japan Labor Union along with the Hyogo Prefectural Federation of Trade Unions and the National Confederation of Trade Unions (Zenroren) filed a complaint against Nestlé Japan in August 2005.

Nestlé headquarters in Switzerland has recently shifted its stance to encourage its overseas affiliated companies to set up talks even with minority unions. The latest settlement in Japan was made possible by Japanese workersf strenuous struggle and was prompted by the global Nestlé headquartersf decision to settle the only Nestlé dispute in the world.

In the settlement agreement, Nestlé Japan declared that it would accept in earnest the Supreme Court and other rulings and abide by them.

The Nestlé Japan dispute is the first labor dispute in Japan to accept violation of the OECD guidelines in the dispute at Nestlé. We believe it is very significant that the settlement was in line with the guidelines calling for the headquarters of a company to intervene in the settlement of a dispute in the country where it operates.

At a time when the worldfs economy is being swept by multinational companies and when Japanese firms are operating globally as multinationals, we believe it is very important to have won the legitimacy of a minority union to establish relations on an equal footing with the company.

At the same time, in a globalized economy, the latest settlement at Nestlé Japan has set a precedent in showing that the OECD Guidelines are effective for settling labor disputes at a multinational company and that they can be used as an effective means of maintaining and even improving the working conditions and of defending the basic rights of workers.

Thirty-one years have passed since the company began its divisive attack on the union. The Nestle Japan Labor Union has filed complaints with the Labor Relations Commission and brought their case to court. The union has won more than 100 orders, rulings and decisions condemning the company, including four victorious Supreme Court rulings (plus one that was brought back to a district court and concluded with out of court settlement).

In reporting the settlement, we express our hearty thanks to all our friends throughout the country, the defense councils throughout the country, and various democratic organizations for extending support to us.