We lodge a strong protest against Osaka Mayor Hashimoto's remark that Japanese military's forced prostitution of Asian women was necessary and demand he revoke it and resign
May 14, 2013
Zenroren Women Bureau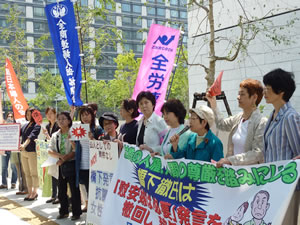 Mayor of Osaka City HASHIMOTO Toru, who is also a co-leader of the Japan Restoration Party, on May 13 said, "Everyone can understand that a comfort women system is necessary if you want to give soldiers some rest while risking their lives in the battlefield where bullets are flying like rainstorms." The Women Bureau of Zenroren strongly protest against Mayor Hashimoto's remark that tramples upon the basic human rights of women and demand that he retract the verbal abuse.

Recently, when Hashimoto visited the US Marine Corps Air Station Futenma (in Ginowan City, Okinawa Prefecture), he suggested to a US commander that "the Japanese sexual service industry be used" to keep Marines' sexual appetites under control. He reportedly said "Japan has places where sexual energy can be released within the law. It is impossible to control the sexual energy of Marines, the brave warriors, properly unless such places are officially made use of. Principles aside, I ask you to make good use of such places." He was clearly despising women when he made the remark suggesting that it is natural to use women as a sexual instrument in the process of prosecuting violence called war.

In order to settle the historical problem of the former Japanese military's use of "comfort women", the Japanese government must listen in earnest to the women who were forced to serve the military as "comfort women", apologize and compensate for them without refusing to look at the historical fact. Hashimoto's remark cannot be condoned as it tramples upon the dignity of women who are victims of the Japanese military's sexual abuse.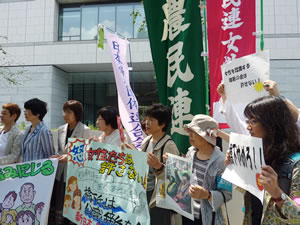 With his remarks that encourage the use of an illegal prostitution system despising women, Hashimoto's quality as a politician is being called into question. We demand that he retract his earlier statements and withdraw from politics.

The Zenroren Women Bureau is demanding that the Japanese government formally apologize and compensate for "comfort women" who were forced into sexual servitude during World War II. It is clear that Hashimoto's remarks were motivated by his aim to turn Japan into a country that can wage war by removing the constitutional ban on the country from going to war. We now realize how important it is for the Zenroren Women Bureau to keep calling for the removal of all US military bases from Japan and build Japan that can contribute to world peace guided by the preamble and Article 9 of the Constitution.

We, the Zenroren Women Bureau will make every effort to help strengthen the struggle to settle the "comfort women" issue as early as possible, remove all US military bases from Japan, and stop the moves to adversely revise the Constitution.