We need reconstruction that primarily assists disaster victims and aims for zero nuclear power
We demand improvement of measures to help men and women balance work and family life

Statement by the Women Bureau of the National Confederation of Trade Unions (Zenroren)

April 8, 2013

The Japanese administration led by Prime Minister ABE Shinzo has launched an advisory council on economic and fiscal policies, a council on industrial competitiveness, and a council on regulatory reforms to accede fully to the financial and business sectors' demand for the further promotion of deregulation policy.

Abe's call for Japan to emerge as the country, in which companies find it easier to do business than in any other country, paves the way for Japan's participation in the Trans-Pacific Partnership free trade negotiations, which he promised during a meeting with the US president. This will make it easier for US-based multinational corporations to make inroads into the Japanese labor market.

The regulatory reform council's working group on the job market has proposed reforms that include easing work time regulation under the pretext of the need to take work life balance into consideration and creating new types of employment that limit work location and job under the cover of "diversity" and "flexibility". They are also considering rationalizing the requirements for changing working conditions, easing rules concerning the Worker Dispatching Act, expanding areas that allow the use of temporary agency workers even in medical services and establishing rules for settling disputes over dismissal, which allows employers to be free to fire workers by using severance pay.

As the business sector takes the lead in the discussion on labor policy, the Economic Revitalization Task Force on April 2 called on the government to consider ending the present policy of what it calls "excessive job-keeping effort" and shift to one of "supporting labor mobility" through opening the "Hello Work" job placement office to private sector, formulating models of "different types of full-time regular workers" in line with limited job categories and work time, and allowing private sector businesses into various forms of childcare service under the pretext of coping with a dearth of child care centers.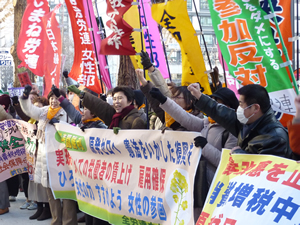 In 1985, the Equal Employment Opportunities Law was enacted, to which our movement contributed. However, the Worker Dispatching Act was also enacted ostensibly to prepare various work schedules for women who are fulfilling family responsibilities. Even though family responsibilities should be shared by man and woman, the idea of "various work schedules" has allowed employers to use more casual workers instead of full-time permanent workers and further impoverished working women.

Women's equality was used to justify the abolition of the Labor Standards Act provision to protect women workers. The promotion of labor market deregulation has led to the creation of a system of deemed-working hours and a discretionary work time system and, as a result, many women workers are taking risks of undermining motherhood, karoshi (death from overwork) and mental disorders.

If labor market deregulation is carried out through discriminatory treatment workers based on types of employment and easing work time regulation by imposing family responsibilities on women and preserving indirect discrimination against women regarding types of employment and management of workers, degradation of employment will worsen for both men and women. And if employers have the freedom to fire workers, as called for by the government and the business circles, it will deal a devastating blow to the workers' movement for their basic rights and for improvement in the workplace environment, which means gutting the Constitution's articles 27 and 28.

The task now is to establish rules for guaranteeing stable employment and decent work for both men and women. Effective revision of the Equal Employment Opportunities Law and the Part Time Employment Act is urgently called for.

The Women Bureau of the National Confederation of Trade Unions (Zenroren) is determined to stop the Abe administration and the business circles' attempt to ease the labor market. We will continue to develop the movement to make all jobs permanent and regular, except for temporary work, and to give part-time workers equal treatment.