A Call for the 2013 People's Spring Struggle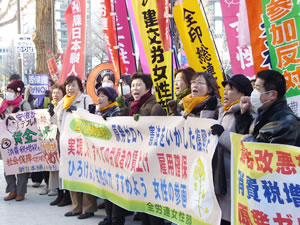 The National Confederation of Trade Unions (Zenroren) 48th General Council meeting

January 24, 2013

Friends,

It's time for all of us to rise in the struggle to win far-reaching improvement in employment, wages and working conditions and to get the national minimum standards established. The National Confederation of Trade Unions (Zenroren) is calling on all fellow workers and people to rise. Realizing the demands of working people is the key to rebuilding Japanese society and economy by ending the deflationary trends.

Late last year, a Liberal Democratic Party-New Kimeito coalition government came into being with Prime Minister ABE Shinzo at its head in the wake of a debacle of the Democratic Party, which reneged on its promise to the public and disappointed many people. The LDP's victory in the general election was also helped by an undemocratic electoral system. The Abe administration, calling for pulling the country out of deflation, is about to promote an economic policy under the name of "Abenomics", which focuses on public investments in large-scale public works project and monetary easing. However, increasing public investment and loans to businesses won't pave the way for breaking the deflationary trends unless workers get a pay raise.

The Japan Business Federation (Keidanren)'s basic stance of holding down wages remains unchanged. But it slightly changed the way they deal with the issue. It made minor changes in the text of its latest Position Paper on Management and Labor Policy immediately before publishing it in order to weaken its reluctance to call for wage increase. This reflects calls for better pay as expressed at local meetings with Keidanren by some employers, who are apprehensive about excessive wage restraint.

With the yen weakening and stocks rising, exporters may be on the upswing and more money may be used for public investment. But this cannot get the economy back on track for recovery. It is essential to raise wages to increase people's purchasing power. We can take advantage of the present situation to achieve a wage increase. In the Spring Struggle, we will bring together all workers' demands for wage increase, equal treatment, and stable employment. We will also call for improvement in unit prices paid to suppliers, which are small- and medium-sized companies, and for large corporations' internal reserves to be used for social benefits. Let us make further progress in this direction and revitalize Japanese society from local communities.

The administration of Prime Minister Abe gives priority to the protection the interest of financial circles and large corporations, forcing the workers and the general public to pay the cost of returning to neo-liberal structural reform policy. It is moving toward raising the consumption tax, promoting nuclear power, participating in Trans-Pacific Partnership free trade negotiations, adversely revising social security measures, adversely revising the Constitution to found a national defense force, and establishing a national security basic law that will enable the country to exercise a right of collective self-defense. Our peaceful lives will be jeopardized. We must inform the public of this danger. Let us broaden cooperation in this effort, so that we can pass strict judgment in the upcoming House of Councilors election.

Friends,

Zenroren's slogans for this year's Spring Struggle are: "Let us change workplaces, local communities, and politics; Let us win better pay, better jobs, and better livelihood." We will hold workers' unity in the workplaces as the key to strengthening their solidarity of workers of all sectors, private and public, workers of all job categories and all types of employment, in order to carry forward the struggle. We will also make efforts to join forces with people of all sections. We will attach importance to having our member unions work together to get as many workers as possible to join the unions while fighting to achieve the immediate needs of workers.

We demand a wage increase of more than 100 yen per hour or more than 10,000 yen per month for all workers. We demand that the minimum wage be set by law at 1,000 yen per hour. We will not tolerate any abuse of the Labor Contract Act (for fixed-term jobs) and the Law for the Stabilization of Employment of the Aged (that secures continued employment of people in their 60s). We demand strict implementation of these laws and effective improvement of the law on part-time work and the law on equal opportunity of employment.

We also demand that the planned consumption tax increase be canceled, that the large corporations fulfill their social responsibility, that post-disaster reconstruction be carried out to serve the interest of victims of the March 11, 2011 earthquake and tsunami, that quality and stable jobs be offered, that social services be fundamentally improved, and that zero-nuclear power be achieved.
We will work to help form a national consensus in defense of the war-renouncing Article 9 of the Constitution. We are against Japan's participation in the Trans-Pacific Partnership (TPP) talks. We demand an increase in financial support to small- and medium-sized businesses, calling for the local economies to be revitalized. We will work in cooperation with people of broad sections, including small- and medium-sized business owners, independent traders and producers, and farmers and fishers.

Let us actively participate in the 2013 People's Spring Struggle.