Zenroren protests over sexual assault of a Japanese woman and demands an immediate dismantling of US bases in Japan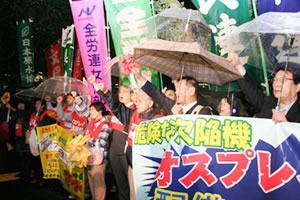 Statement by ODAGAWA Yoshikazu
Secretary General
National Confederation of Trade Unions (Zenroren)

On October 16, Okinawa police arrested two US Navy sailors on suspicion of sexually assaulting and injuring a woman. The police say the woman suffered a neck injury when she was attacked by the pair while she was walking home.

There seems to be no end to US service membersf crime in Okinawa. US Marines gang raped a school girl in September 1995. A US Marine raped and injured a school girl in May 2003. A US airman raped and injured a school girl in July 2005. A US Marine used violence against a junior high school student in February 2008. A US Marine raped a woman in August 2012. As it is likely that there are rape victims who are discouraged from reporting suffering to police, we believe that the recent incidents are only the tip of the iceberg. Sexual assault of women is a degrading act and crime trampling on human rights. We are infuriated by US service membersf repeated crimes.

Behind these crimes and incidents are the Japan-US Security Treaty and the Status of Forces Agreement between the United States and Japan. US service members have the privilege of not being brought to court for trial on the grounds that they were on gofficial dutyh, even when they were found responsible for the incidents. As US service members are protected by this privilege, they can commit crimes not only in Okinawa but anywhere else in Japan. In order to uproot heinous crimes by US service members, Zenroren strongly demands that the Japanese and US governments dismantle all US military bases in Japan and abrogate the Japan-US Security Treaty.

The Japanese government has summoned the US ambassador to Japan and lodged a protest over the incident. It also demanded that the US forces strengthen discipline in the US forces. The ambassador reportedly responded by saying that he shares Okinawansf sentiments. But Defense Minister MORIMOTO Satoshi said, gThe US servicemen happened to be in Okinawa when they caused the incident.h Thus, the Defense Minister recognizes that the US servicemen are personally responsible for the crime.

Morimoto failed to respond to Okinawa Governor NAKAIMA Hirokazufs request that the Japan-US Status of Forces Agreement be fundamentally reviewed. The Japanese government has given the green light to deployment of the defective Ospreys aircraft to Okinawa in defiance of opposition arising from all Okinawans. The Japanese government makes much of the Japan-US Security treaty setup rather than the wishes of the people. The need now is to change such a position of the Japanese government. Zenroren protests over the US servicemenfs sexual assault of a woman and strongly demands a shutdown and dismantling of all US military bases in Japan and the abrogation of the Japan-US Security Treaty.