Zenroren demands halt to survey Osaka City is conducting on labor relations in violation of workers' basic human rights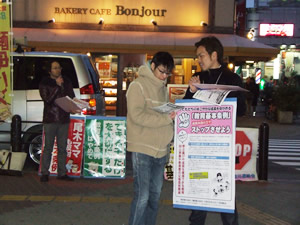 Statement by ODAGAWA Yoshikazu, Secretary General, National Confederation of Trade Unions (Zenroren)

February 15, 2012

On February 9, the mayor of Osaka City ordered all city government workers to respond to questions in a survey regarding labor relations. Questions concern actual participation in union activities, support for specific politicians, and involvement in vote-getting activities for particular politicians. The survey also asks employees to answer questions regarding how they see union activities and election campaigning, their union membership, their relationship with the union, and their views on the employees' union.

The survey asks each employee to tell about their political awareness and involvement in political activities. Such questions may violate the civil rights, including freedom of thought, political freedom and freedom of association. Asking public service employees about their participation or involvement in the union is a matter affecting the workers' right to association. It is also interference with the union.

Public administration must be in conformity with the Constitution and laws. Giving orders to municipal employees is regarded as an act of administrative procedure and must be in compliance with the rule of law.

Unlike "government clerks" in prewar Japan, whose fundamental human rights were restricted as a matter of course, the public employees under the present Constitution are servants of all citizens, and duties and rights for them as citizens and as workers need to be balanced. From this point of view, it is illegal to use orders and punitive provisions to force public employees to cooperate with a survey that could violate civil freedoms and basic labor rights.

Under the Public Service Act, only political acts that are carried out with specific purposes defined by law are restricted. Such provisions must be implemented in a strict manner. For example, it is understood that the act of calling on voters to vote for a particular candidate is an illegal political act only when it is carried out organizationally or according to plans or continually. However, the present survey in Osaka puts questions that imply as if it is illegal to be asked to vote for a particular politician. This way of questioning could pave the way for suppressing the employees' constitutional right to political activities and hampering the sovereign right of the public to participate in political activities.

ILO Convention 87 (Freedom of Association and the Right to Organize), which Japan has ratified, asks national governments to guarantee the labor right to exercise freedom of association. It is clear that the local government of Osaka City's survey asking its employees to tell about disadvantage that an employee might suffer by not joining the union goes against ILO Convention 87. Since it is in contravention of the Constitution of Japan as well as the international convention, Osaka City's present survey on its employees affects not only the city's employees. Zenroren demands a halt to the survey, which is a flagrant attack on all workers.