News on Zenroren Disaster Related Activities - May 13, 2011

News from Iwate Prefectural Federation of Trade Unions (Iwate-roren)
April 28, 2011

Zenroren's telephone labor counseling flooded with work-related inquiries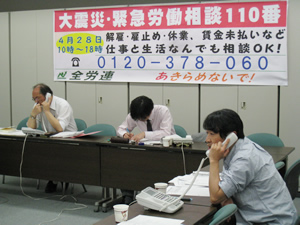 On April 28, the 49th day after the devastating earthquake and tsunami hit northeastern Japan, Zenroren set up an emergency telephone counseling to help workers in disaster-hit areas resolve their labor-related problems.

Damage from the massive earthquake and tsunami and protracted radioactive contamination are having a serious impact on employment throughout the country.

In the hardest disaster-hit areas of Iwate, Miyagi and Fukushima prefectures, many factories and offices have been closed temporarily or have been forced to reduce operation. Many companies have been shut down or forced out of business or gone bankrupt.

Zenroren set up a work-related telephone counseling service throughout the country to help in the restart of local small businesses and support workers' efforts to secure jobs and rebuild their living conditions.

Participants in May Day rally in Sakihama, Iwate Prefecture, pledge a fresh effort to rebuild their living conditions and achieve post-disaster reconstruction
May 1, 2011

On May 1, workers in Ofunato City, Iwate Prefecture, assembled in the city's Sakihama district for the 82nd May Day rally.

Zenroren-affiliated union members, who are volunteering for disaster relief activities, called for the event in solidarity with workers throughout the country.

Participants agreed to intensify the movement to secure jobs and win a wage increase for all workers as well as for post-disaster reconstruction.

The rally received the following message from SUZUKI Tsuyumichi, chairman of Iwate Prefecture's organizing committee of the 82nd May Day Rally and chairman of the Iwate Prefectural Federation of Trade Unions (Iwate-roren):.

Greetings to volunteers from Zenroren and the national liaison council of disaster relief activities!

Today workers across the country are participating in the 82nd May Day events. You were to celebrate the workers' holiday and participate in their respective local events and make the demands of workers and people in general heard, followed by cherry blossom viewing and parties.

On March 11, at 2:46 p.m., a huge earthquake with a magnitude of 9.0 occurred off the Sanriku coastal district, causing a massive tsunami. More than 7,600 people died or went missing in Iwate Prefecture. About 18,000 homes were totally destroyed when they were swept away or flooded. More than 5,000 homes were heavily damaged.

Many of you still vividly remember witnessing tsunami waves cross the coastal levee and sweep buildings and vehicles away.

More than 24,000 people died or went missing in Rikuzentakata City. Someone described the city's devastation looked like the devastation of Hiroshima and Nagasaki in the wake of the atomic bombings.

A month and half have passed since then. A large number of people are still searching for their relatives who remain unaccounted for. More than 40,000 people are living in more than 300 emergency evacuation centers.

We decided to celebrate this year's May Day as "May Day dedicated to disaster relief and support for post-disaster reconstruction" and to hold local rallies in Kuji, Hanamaki, Kitakami, Oshu, and Ichinoseki, in addition to the Prefectural Rally in Morioka.

Zenroren volunteers through their hard work are giving the light of hope to all those who were driven to despair by the disaster and greatly encouraging them to rise for the post-disaster reconstruction.

Meanwhile, Prime Minister KAN Naoto intends to increase the consumption tax rate under the name of post-disaster reconstruction tax. He is pushing ahead with Japan's participation in the Trans-Pacific Partnership free trade arrangements. He is also aiming to carry out further structural reform policies and reorganize the present 47 prefectures into smaller administrative divisions (do-shu administrative system).

We must stop these schemes by all means. What is important in the post-disaster reconstruction is to give priority to help residents rebuild their living conditions so that everyone can live with dignity, just as it is guaranteed by the Constitution's Article 25.

I want to thank all volunteers for holding the rally in a limited time before starting their activities.

This rally will be remembered as an historic one of firmly uniting the disaster areas and the rest of the country.

I think it will take more time to complete the road of post-disaster reconstruction.

Finally, we would like to express our gratitude to your activities as volunteers.

Long live unity of workers! Long live the 82nd May Day!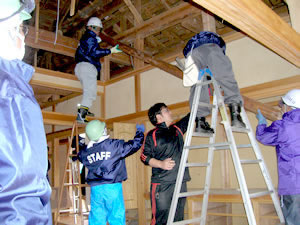 Volunteers are using their expertise to meet the demands of victims
May 11, 2011

Zenroren volunteers from around the country are working hard every day.

They are divided into several groups helping in the removal of debris at individual homes or public facilities and in the distribution of relief supplies.

At a home we visited on April 19, we found rooms and the garden covered with debris.

In the rooms on the first floor, the chest of drawers, the sofa and tatami (straw mat) were covered with mud.

Volunteers took them out and washed them. They also washed the flooring and table ware.

The eight-member group was unable to complete the work by the end of the day.
Later, another team of volunteers visited the same home and finished the cleaning.

On May 7-9, a group of Zenroren volunteers visited a home. They removed the wall cloth and the ceilings after discussing with the builder of the house as well as with the household head.