200,000 workers take part in Japan's 82nd May Day rallies at 313 locations
This year's May Day Central Rally was held in Tokyo's Yoyogi Park under the slogan: "We support earthquake and tsunami survivors and protect jobs and livelihoods; Now is the time for corporations to use a part of their internal reserves to help in post-disaster reconstruction," attended by about 21,000 people despite a chilly and stormy weather.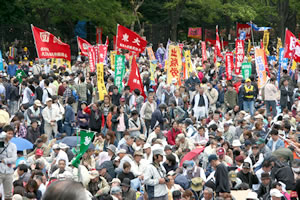 At the opening of the rally, a moment of silence was offered for the victims of the March 11 earthquake and tsunami that hit northeastern Japan.
With the chairman of the Miyagi Prefectural Federation of Trade Unions (Miyagi- kenroren) speaking on behalf of the quake- and tsunami-stricken areas in northeastern Japan, rally participants expressed their solidarity with all people in quake-affected areas.
The rally received messages of solidarity from Japanese and foreign labor unions and other organizations, including the Central Union of Agricultural Co-operatives (JA Zenchu).
May Day rallies took place in Tokyo and all 46 prefectures, including the quake-hit prefectures of Iwate, Miyagi, Fukushima, Ibaraki and Chiba.
Fifty days after the East Japan Great Earthquake that left more than 27,000 people dead or unaccounted for, no end to the crisis is in sight at the Fukushima Daiichi nuclear power plant. More than 100 thousand people are forced to evacuate their homes.
In his opening speech on behalf of the organizing committee of the Central May Day Rally, DAIKOKU Sakuji, president of the National Confederation of Trade Unions (Zenroren) said, "Let us continue to press the national and local governments to take steps to ensure that the quake victims can restore decent living conditions as soon as possible. We also demand that Tokyo Electric Power Company fulfill its responsibility to pay damages to all those affected by the nuclear accident.
He criticized the Cabinet of Prime Minister KAN Naoto for suggesting a tax increase policy as part of the post-disaster reconstruction efforts and for refusing to reverse the government policy of promoting nuclear power. "The labor unions have the role to play in having politics move away from serving the best interest of the business sector, and in particular large corporations and in building a society that would promise worker rights and lead to the development of regional economies and a sustainable society," Daikoku said.
A speech by Japanese Communist Party Chair SHII Kazuo was followed statements by Vice Chairman of the Miyagi Prefectural Federation of Trade Unions (Miyagi-kenroren) ANDO Mitsuru and President of the Japan Federation of Democratic Medical Institutions (Min-iren) FUJISUE Mamoru.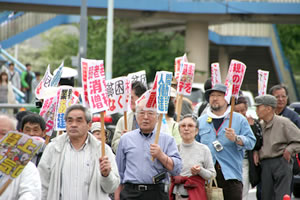 Ando called for the government to play its role in resolving problems associated with jobs and in helping survivors rebuild their living conditions and the post-disaster reconstruction.
FUJISUE criticized the government's so-called structural reform policy and its promotion of nuclear power. He said, "Regions struck by the massive earthquake and tsunami had already been plagued with the collapse of medical services and a shortage of medical doctors. They are now affected by a nuclear accident making the situation uncontrollable." He emphasized that the struggle against a consumption tax increase and Japan's participation in the Trans-Pacific Partnership (TPP) free trade arrangement serves as true manifestation of solidarity with the quake-affected people.
After appeals made by the Tokyo Construction Workers' General Union (Tokyo Doken) and the Federation of Unions of Agricultural Cooperatives' Unions (Nokyororen), representatives of four unions and plaintiffs in lawsuits against dismissals spoke their determination to win the reinstatement of all dismissed workers: the Japan Federation of Aviation Workers' Unions, which is demanding revocation of dismissals of Japan Airlines pilots and other workers; the Legal Affairs Bureau Workers' Union; a task force of the All Health & Welfare Ministry Workers' Union; and the All Japan Construction, Transport and General Workers' Unions (CTG, Kenkoro), which is defending INAX workers, and a New National Theater singer against dismissals.
A member of the General Federation of Japan Printing and Publishing Workers' Unions (Zeninsoren) said, "We are demanding a wage increase, which needs economic recovery."
The May Day rally, held on Sunday, was also attended by many workers with their children.
A member of a public sector general workers' union said, "After the quake, the number of people who lost jobs and have become unable to pay taxes is increasing. Many temporary agency workers have faced unilateral termination of their contracts.
UEMATSU Hatsuko, vice chairperson of the Tokyo Co-op Net Union affiliated with the National Federation of Consumers' Cooperatives Workers' Unions (Seikyororen), said, her union carries out fundraising on the eleventh day of every month in front of Minami-urawa railways station to remember March 11 earthquake and tsunami. She said her union is calling for solidarity to put energy in northeastern Japan while demanding a minimum wage of more than 1,000 yen per hour.
Vice President of the Meteorological Agency Workers' Union (Zenkisho) SAKAMOTO Seiichi said, "When Sendai Airport (in Miyagi Prefecture) was closed due to the inability of traffic controllers to perform their duty, meteorological agency workers from around the country flew to Hanamaki, Yamagata and Fukushima airports to assist in receiving rescue teams, including those from the Self-Defense Forces around the clock. Our union called up forecasters from around the country to provide forecasts for the quake- and tsunami-hit areas."
Municipal child care center employees, who are members of Tokyo's Setagaya Ward Public Employees' Union, took part in the rally wearing panda hats. One said, "Some children, whose parents were unable to come to pick them up on March 11 due to the earthquake, were forced to stay in the facility until the following day." Another said, "There is a growing concern about the safety of tap water. Some parents bring mineral water for their children." A participant said her child care center takes into consideration parents' concern about possible radioactive contamination of vegetables.
After the rally, participants marched in demonstration in three separate courses.
Opening Speech by Zenroren President DAIKOKU Sakuji
At 82nd May Day Rally in Tokyo
DAIKOKU Sakuji, president of the National Confederation of Trade Unions (Zenroren) gave the opening speech at the 82nd May Day Central Rally in Tokyo as follows:
On behalf of the May Day Organizing Committee I declare the 82nd May Day Central Rally open.
This year's May Day rally is taking place in an extraordinary situation, 50 days after a massive disaster that the world has ever experienced: the East Japan Great Earthquake, the subsequent tsunami and a massive release of radioactive elements in the accident at the Tokyo Electric Power Company (TEPCO)'s Fukushima Daiichi nuclear power plant. We are meeting here as the nuclear accident continues to have a serious impact on northeastern and eastern Japan.
More than 26,000 people were killed or went missing. More than 100 thousand people are forced to endure life in evacuation centers. I would like to express our sympathy for all those affected by the disaster.
The government has declared areas within 20 kilometers from the stricken Fukushima Daiichi plant a no-entry zone. Residents of these areas are forced to leave their home for a long time. Shipments of agricultural products from many areas of this region have been restricted due to radioactive contamination. Agricultural markets are affected by rumors causing concerns that produce from these areas are contaminated with radioactive materials. The Tokyo metropolitan area may face an electric power shortage. Many people are not without uncertainties because of the need to save on electricity.
I want to share with you the determination to join with quake survivors in demanding that the government and relevant local governments to take steps to ensure that people in the affected areas can live decent lives as soon as possible and that TEPCO pay them damages needed to rebuild their living conditions.
The affected areas are Japan's major grain-growing district. Dairy products and fishery products are some of the main products of these regions. Agricultural, forestry and fisheries products from northeastern Japan and northern part of the Pacific coast of east Japan (Kanto) account for 15.8 percent of the nation's output. Many of farmers and fishers are small business owners or self-employed farmers. A large number of people who have been forced out of work in the disaster-hit areas are looking for jobs at the "Hello Work" job placement agency. They are uncertain about what to do to live from tomorrow.
I call on all union workers to intensify the struggle throughout the country to press the government take steps to ensure that survivors can have the prospects for rebuilding their lives as soon as possible by improving and expanding programs for job creation, medical services, welfare measures, education and public assistance for unemployed.
Secondly, I want to share with you the recognition that the post-disaster reconstruction and rehabilitation has important bearings on what the future of Japanese society should be like and that the labor movement has an important role in it.
Prime Minister KAN Naoto's cabinet has launched a government panel to discuss a plan to rebuild areas devastated by the March 11 earthquake and tsunami in northeastern Japan. However, the panel intends to come up with a top-down approach focusing on a consumption tax increase under the name of reconstruction tax. What's more, the Kan Cabinet is preparing to reopen the government panel to discuss social security reform linking it to a consumption tax increase. The reform plan would include raising the starting age for pension benefits, introducing a child care system driven by the market forces and based on guardians' (beneficiaries') responsibility, and adversely revising social security programs, including the National Health Insurance. The business sector continues to refuse to move away from promoting nuclear power as a major energy source, even though there is no end in sight to the Fukushima Daiichi nuclear power plant crisis.
We demand that the post-disaster reconstruction give priority to helping the quake and tsunami victims rebuild their living conditions and that it recognize the importance of local community. We also demand that reconstruction include measures to secure and create jobs for quake victims, that rules of employment be established, and that social services be expanded and improved with the aim of reducing the gap between rich and poor and ensuring a stable labor market.
I believe that the task is for the labor movement to create sustainable social systems and achieve the development of regional economies by breaking away from politics that is subservient to the demands of the financial circles and large corporations and by securing worker rights. I am sure that this is the path to break the social and economic stagnation in Japan and rebuild the nation's economy, which has long been without growth.
In securing financial resources for reconstruction, it is wrong to force the people to pay. It is important to cancel wasteful large-scale public works projects, stop paying a part of the costs for the stationing of the U.S. forces in Japan from the so-called sympathy budget, end tax breaks for large corporations, and force large corporations to use a part of their internal reserves for reconstruction. We will demand an end to the promotion of nuclear power based on the myth of nuclear safety and seek to move toward adopting an energy policy that puts emphasis on the utilization of renewable energy sources.
Thirdly, we must continue with the task for jobs and the demands we put forward in the Spring Struggle.
An estimated 840,000 people are employees in the disaster-hit areas. With auto and electronics makers being forced to suspend their operations in these areas, large corporations are adjusting production of raw materials and components or changing suppliers. Everyone knows that large corporations that have been doing business in the quake-hit areas are those that have enjoyed various benefits from the local governments that invited them and that they have made huge profits. If their plants move abroad never to come back, the regional economy as well as the labor market in the disaster-hit areas will face enormous difficulty. So, we will press the financial circles and large corporations to fulfill their social responsibility.
Wage talks in the Spring Struggle came to a brief halt throughout the country following the massive earthquake and tsunami. Talks have resumed in many workplaces. Full-fledged talks are about to begin in some industries. We will work together with friends throughout the country to force large corporations to use a part of their huge internal profits to help in the post-disaster reconstruction and in boosting the domestic economy, revitalize small- and medium-sized businesses and regional economies, establish rules of employment in order to secure jobs for all workers, win decent wages and decent working hours, and improve and expand social services. We will pursue decent work as called for by the ILO and develop our struggle to win the various demands and a substantial minimum wage increase.
Let us also increase common action to press Japan Airlines and the former Social Insurance Agency to revoke dismissals. Let us oppose Japan's participation in the Trans-Pacific Partnership Agreement (TPP) that would destroy Japanese agriculture and employment.
Let us join forces in the struggle to achieve early post-disaster reconstruction and build a new Japan in which income disparities will be reduced and in which young people can discuss a bright future.
Workers of the world, unite!
Long live the 82nd May Day!