Bulletin
Earthquake-tsunami disaster relief, No, 3
March 31, 2011
Candidates for prefectural governors and mayors of large cities officially began campaigning throughout Japan on March 24, except prefectures that were hardest hit by the March 11 earthquake and tsunami. These are the first half of the nationwide local elections that come every four years and will be held on April 10.
The National Confederation of Trade Unions (Zenroren) has thrown support behind progressive candidates in gubernatorial elections (Hokkaido, Iwate, Tokyo, Kanagawa, Mie, Nara, Tottori, and Fukuoka).
In Tokyo, the progressive candidate's campaign kicked off at the west gate of Shinjuku station in downtown Tokyo, calling for support to his policy to defend the safety of Tokyo citizens through improving welfare services and disaster prevention measures.
Zenroren believes that the task now is for every voter to seriously think about ways to protect people's livelihoods and safety, particularly in the wake of a massive earthquake and tsunami.
On March 25, Zenroren issued a circular to inform member federations. It was entitled "Preparations for sending in voluntary relief workers to quake- and tsunami-stricken areas, and the status of volunteer applicants." Zenroren began delivering supplies to the quake-hit areas using its loudspeaker van immediately after the disaster. With systems improving for sending out volunteers and other relief activities, Zenroren will soon begin joining forces with other democratic organization.
Donations sent from brother unions abroad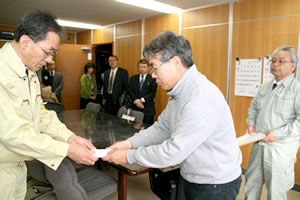 Zenroren has received cash donations from individuals and unions home and abroad, including the Vietnam General Confederation of Labor (VGCL), the All-Pakistani Federation of Trade Unions (APFTU), the Construction, Forestry, Mining and Energy Union (CFMEU, Australia), the Italian General Confederation of Labor (CGIL), the All-China Federation of Trade Unions (ACFTU), and the the United Trade Union Federation (FSU, France)(25/03).
On March 29, Zenroren Deputy Secretary General WATANABE Masamichi visited the earthquake- and tsunami-hit prefectures of Fukushima, Miyagi and Iwate on March 29-31 and delivered 2 million yen each.
Zenroren will continue to step up efforts to raise donations, send supplies as well as disaster relief volunteers to the quake- and tsunami-hit areas.
News from federations:
In the aftermath of a massive earthquake hitting eastern Japan
By Postal Industry Workers' Union (YUSANRO) Kesennuma branch
It has been said that a massive earthquake would occur off the Miyagi coast within several years. But who could have predicted such a colossal earthquake and tsunami?
In Kesennuma City, houses were destroyed mostly by the tsunami, rather than by the earthquake. The outflow of oil from destroyed oil storage tanks on a reclaimed area caused fires to spread throughout the bay.
The city's streets were turned into mountains of debris, with large fishing boats seen washed ashore. In areas near the seashore, most buildings and houses disappeared leaving their foundations behind. In higher grounds, a number of people went missing after being swallowed by tsunami waves.
Damage was particularly severe in the depth of the bay in a sawtooth coastline. Nothing was unharmed. Those areas that had been designated as areas for evacuation in the event of tsunami were also washed away.
Many postal workers were unable to go home. They spend overnight in the branch office.
Japan Post's Kesennuma branch office building stands on land one meter higher than the road level, but it was flooded about 20 centimeters above the floor. One of the collection and delivery centers was totally destroyed. Five post offices and one postal insurance office were wiped out. Sixteen postal workers, including those who were unable to go home on that day, are taking shelter at the post office. A delivery truck that had arrived in Kesennuma the previous day from Sendai and had been unable to return to Sendai departed at 10:00 a.m. carrying collected mails.
Later in the day, when we had a rest while removing seawater from the office and debris from the parking area, five delivery workers came back to the office from Karakuwa district, where they had been delivering mails the previous day. They said they came back walking a distance of 15 kilometers along the rail tracks. They were given a big applause when they arrived at the office.
Family members of some of the employees are still missing. There are workers whose houses were swept away by tsunami. There are also workers who are unable to go home due to a gasoline shortage. We decided that these employees should search for their relatives, find emergency shelters, or repair damaged houses, before everything else and that only employees who suffered relatively light damage would come to office.
On March 16, the Kesennuma branch office head came back. He had been in Sendai on business, and the branch office had lost contact with him since March 11.
We decided to transport mails to Sendai once a day from March 17, enabling us to transfer to Sendai all mails that had been collected at Kesennuma.
Parcels stopped arriving from March 12. We also stopped accepting parcels, while we tried to collect mails from mail boxes and deliver registered letters (giving priority to cash by registered mail, documents for entrance examination, and acceptance letters). We also tried to determine areas where mail delivery is possible/impossible and make sure the addresses of emergency shelters.
On March 22, we also began delivering mails that had been accumulated. We began to find the addresses of residents in emergency shelters and to accept parcels. All branch offices in the area reopened.
With almost all companies in the city swept away by Tsunami, an overwhelming majority of the residents are left without jobs and homes. No one can tell how many years it would take to recovery from this disaster.
All we can do is deliver letters that carry heart-warming words of encouragement as quickly as possible to survivors of the disaster so that they can have the courage to live. An employee walks eight kilometers every day to go to work. A woman employee said she would go to work by bicycle because gasoline is hard to come by. Post office workers are determined to do their utmost to take first steps toward rebuilding their lives.
We are receiving a lot of supplies. We would like to express deep gratitude to all friends throughout the country for their warm assistance and encouragement.
Survivors are striving toward recovery
Japan Federation of Prefectural and Municipal
Workers' Unions (Jichiroren) task force on disaster relief
In Iwate, the prefectural federation receives heartbreaking news day after day.
With the number of casualties increasing, the federation office has received the news of the deaths of union officials and its staff members.
We heard from the hardest hit coastal area of southern Iwate Prefecture that the local disaster prevention administration's radio communication continued to urge evacuation to avoid tsunami and that the caller was screaming at the end.
In municipalities that lost many employees, one of our union members died after being swallowed by tsunami waves, leaving some refreshment to colleagues. Twenty people who fled to the top of the building were able to survive by sharing the refreshment among themselves.
Many who saw their colleagues being washed away by tsunami waves need mental care.
Many of them who saved their lives are working after the disaster, without changing clothes. Some of them sleep in their cars. For two weeks after the quake and tsunami, they have been striving every day for disaster recovery to the break point, mentally as well as physically. Our union members are being sent to the disaster areas by their municipalities around the country.
Experienced union officials, who were local government workers, are also energetic in playing their roles. MAEKAWA Suiichi, former head of the union's Iwate Prefectural office, was hit by tsunami in Kamaishi City. He was later found to have taken shelter in a nearby elementary school after his house was totally washed away and destroyed by tsunami.
Maekawa worked with the Iwate Jichiroren and other democratic organizations for other evacuees in the same shelter. He learned of the immediate needs of evacuees and took their demands to the mayor of Kamaishi City on March 21. The demands included the building of temporary housing, monetary assistance to survivors, and medical services without health insurance cards.
On March 23, he took these demands also to the Iwate Prefectural Government office. Prefectural officials promised to respond to the needs for temporary housing as soon as possible. They also said people can see doctors even without the health insurance card.