Bulletin: Quake-Tsunami Disaster Relief, No. 2
March 23, 2011
Miyagi Prefectural Federation of Trade Unions (Miyagi-kenroren)
To our friends throughout the country:
I am writing this on behalf of Miyagi-kenroren to express my respect for your day-to-day activities. I would like to express my deep gratitude for the assistance you have extended to us in many ways, including donations and messages of encouragement, in the aftermath of the massive earthquake and tsunami.
No one has ever expected such a massive disaster caused by quake and tsunami, which resulted in enormous damage. Most areas on the Pacific coast of three prefectures -Iwate, Miyagi and Fukushima- were totally devastated, and a large number of people died or went missing.
We have learned that several members of Miyagi-kenroren and their family members have died. Many of our members have sustained enormous damage as their houses were swept away by tsunami.
Miygi-kenroren has been so busy confirming the safety of its affiliatesf members and their family members that it still is unable to take any organizational measures to deal with the aftermath of the quake and tsunami. We are trying hard to rebuild our organization as quickly as possible in response to the wishes of our friends throughout the country.
We are aware that a process of disaster recovery needs a lot of hard work and a lot of time as well. We are determined to work together to achieve it, but we also need your help. Miyagi-kenroren will continue to take a lead in the recovery efforts in Miyagi Prefecture.
SUZUKI Shin
Chairman of the Miyagi Prefectural Federation of Trade Unions
Fukushima Prefectural Federation of Trade Unions (Fukushima-kenroren):
- Fukushima-Kenroren never gives up hope!
- Zenroren throws full support behind Fukushima-Kenroren
Since immediately after Northeast Japan was hit by enormous quake and tsunami, Zenroren has extended its full support for us by sending a disaster relief vehicle three times to Fukushima on its way back from Miyagi Prefecture.
On March 16, Zenroren Standing Executive Committee member in charge of disaster relief, NAKAYAMA Masunori, came to our office to collect information about damage we sustained. He also gave us some advice regarding our future efforts.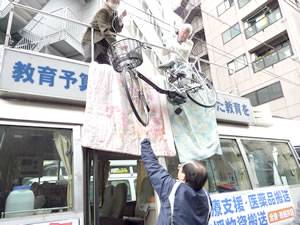 On March 19, doctors and nurses in a disaster relief vehicle came from the Hokkaido Workersf Medical Association (Hokkaido Kin-ikyo) to deliver supplies after visiting Miyagi.
On March 21, members of the All Japan Teachers and Staff Union (Zenkyo) visited our office to deliver two electric bicycles for us to use amid a gasoline shortage.
Relief supplies will be effectively distributed from the relief supplies distribution center.

(From Fukushima-kenroren Task Force Bulletin)
Federations -industrial and local- are stepping up activities
The Telecommunication Industry Workersf Unions (Tsushinroso) on March 14 requested NTT East (Nippon Telegraph and Telephone East Corporation, one of the phone companies created through a breakup of the former privatized NTT) to fulfill its responsibility for providing universal services by giving priority to disaster relief and reconstruction in the quake- and tsunami-damaged areas in the effort to quickly restore the telecommunication systems. The union also asked the telecom company to care for its employees and their families that have suffered losses from the quake-tsunami disaster and to pay attention to employees who are engaged in disaster rehabilitation.
The Aichi Prefectural Federation of Trade Unions (Aichi-roren) Chairman KUREMATSU Saichi wrote the following report:
It took 3 days to deliver heating oil to a quake- and tsunami-hit area
We left Nagoya on March 19 for Sendai carrying heating oil to be delivered to emergency shelters. I keenly realized that disaster means impoverishing people because it would make it impossible for them to do things they have done without difficulty in everyday life, such as going to work, attending school, drinking water, heating the room, etc.
Damage differs from place to place even in the same disaster. Disaster victimsf lives may be different according to different financial positions. Those who have savings can use them to keep on living, but low-paid contingent workers do not have such saving.
We traveled to Tagajo City, the northeast neighbor of Sandai City, and delivered heating oil at eight emergency shelters and the city hall. We bought the kerosene with cash donations we collected.
We first visited an elementary school, which was used as a shelter for 900 people. Evacuees with containers stood in line to receive heating oil. We provided them with a total of 350 liters of heating oil. At every emergency shelter we visited, the oil delivery made people very happy.
Emergency shelters are located on high grounds. We found the Sendai Shinminato district (Sendai Port) terribly damaged by tsunami waves. Hundreds of vehicles, swept away by tsunami, were found slammed into an apartment building and lying on one another. Rice paddies were flooded after land sinking. Roofs of houses that submerged were seen. Ten days after the quake and tsunami, people were experiencing shortages of kerosene, food, and daily necessities. Many are unable to go shopping due to a lack of gasoline. About 100 vehicles as well as people with a 10-liter container formed a queue at a filling station to buy gasoline. @
These are some of the features of the problems the damaged city of Tagajo have.
Because extremely vast areas are devastated, it is impossible to establish key disaster relief stations in such disaster areas. Many devastated areas are so isolated that it is difficult to get information on whatfs going on in those areas.
There are no means of transportation
There are no prospects for Japan Railway services to be resumed for northeast Japan, including the high-speed Shinkansen line. People looking for their relatives come to Iwate by bus from Ichinoseki or Yamagata. The Tohoku Expresswayfs north of Fukushima is open only for authorized disaster relief vehicles. There are many bumps on the regionfs highways. Driving on coastal highways is unsafe because bridges might be broken. The number of gas stations that are available is very limited, and drivers would have to constantly check mileage so that they may not run out of gas. Even after arriving in a disaster area, drivers need to prepare sufficient gasoline for activities there. We carried a tank containing light oil.
Disaster areas are without personnel to organize relieve work
As the number of municipal employees has been reduced since municipality mergers to create larger local government, local municipal offices are unable to grasp the situation of all emergency shelters, including the needs of their users. Municipal workers are also quake-tsunami victims. They have difficulty going to work or moving around the town due to a shortage of gasoline. There are many local government workers who have not come home since the disaster.
Disparities between regions
The degree of damage differs depending on area and height. What people in emergency shelters need differs depending on the recovery of power, gas and water supply. Although we need to deliver things each emergency shelter needs, it is difficult to get information about their needs.
Removal of garbage and debris requires expertise
Abandoned vehicles contain gasoline, and it is dangerous to remove them. Removal of such vehicles also requires procedures related to motor vehicle registration. In many cases heavy equipment is needed to remove them. In areas where tap water is not available, toilets need to be cleaned by cesspool cleaner trucks.
Fortunately, we had sunny three days over there. We were able to carry out relief work under favorable conditions, as we could secure a tank truck and kerosene by taking advantage of union connections and refuel at a forwarding companyfs office. Our tank truck was able to use the expressway because restrictions on its use had just been eased. In Tagajo City, we could stay at the office the Miyagi General Workersf Union, which was not damaged by the quake.