Bulletin:
Quake/Tsunami Disaster Relief
Zenroren's emergency relief aid leaves for Miyagi and Fukushima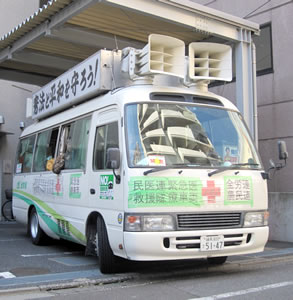 On March 12, the day after a massive quake and tsunami struck the Pacific coast of northeastern Japan, the National Confederation of Trade Unions (Zenroren) joined with the Japan Federation of Democratic Medical Institutions (Min-iren) and the Japan Family Farmers Movement (Nouminren) in sending their first relief team in the disaster areas.
On the morning of March 18, their third relief unit left Tokyo for Miyagi and Fukushima with Min-iren doctors and nurses to be sent to Saka Hospital in Miyagi Prefecture as well as aid materials to the Miyagi and Fukushima prefectural federations of trade unions, including cup noodles, pocket warmers and work gloves.
Federations:
Miyagi Prefectural Federation of Trade Unions (Miyagi Roren)
The prefecture is experiencing severe food shortages. With only a small number of convenience stores and grocery stores open, people everywhere are forming long lines to scramble for now-scarce items. A sold-out situation would come quickly. Water tank trucks and other aid materials do not come to emergency shelters. A lack of gasoline makes evacuees' movement even more difficult. Heating oil is sold only in limited areas.
Fukushima Prefectural Federation of Trade Unions (Fukushima Roren)
At Fukushima Roren's office in Satsuki-cho, Fukushima City, everything was a mess. The building is in good shape but without water. People are experiencing severe gasoline and heating oil shortages.

Soma City and Minami-soma City, and the Onahama district of Iwaki City, which are on the Pacific coast, are the hardest hit by the quake and tsunami. A union member in Minami-soma City has reported to the federation office that he and his family members have survived the tsunami but that his house was washed away. The federation office has difficulty in trying to contact every union member. An accident at Fukushima Daiichi Nuclear Power Plant is adding to the seriousness of the disaster.

Aomori Prefectural Federation of Trade Unions (Aomori Roren)
Many filling stations are closed in Aomori. Only up to 10 liters of gas is sold to each of people standing in line. Many people are "gasoline" refugees. All events that have no urgency have been cancelled. Only a limited amount of heating oil is supplied.
We can work in the office no matter how cold it is. But you cannot go to work if gasoline is not available. That is a major concern residents in this area have at present. With mail and other delivery services unavailable, there is no means to send in relief goods. There is one private railway service available. But it is in service only between Aomori and Asamushi. Restoration of train services between Asamushi and other southern cities, including Hachinohe and Iwate, is not in sight. It is becoming difficult to buy some daily necessities at the area's supermarkets. Damage from the earthquake was relatively smaller in Aomori than other northern prefectures, but disruptions of lifelines are serious.
Iwate Federation of Trade Unions (Iwate Roren)
On March 13, representatives of trade unions, democratic organizations and the
Communist Party held a meeting to establish their joint disaster relief task force headed by Iwate Roren President SUZUKI Tsuyumich. Its office is in Iwate Roren.
Damage from the massive quake and tsunami is extremely serious. Rescue and search for missing people is a task of foremost importance at present. Highways in the prefecture are closed. Passage of only vehicles of rescue teams, such as Self-Defense Force units, is allowed. Gasoline and other fuels are hard to come by. Vehicles for transporting relief supplies and volunteers for relief work are unable to enter many quake- and tsunami-affected areas.
Zen'in Soren
Here is a report from a member of the General Federation of Japan Printing and Publishing Workers' Unions (Zen'in-soren) at Akatsuki Printing Kitakami Plant in Kitakami City:

Akatsuki Printing workers are on furlough. It is hard to obtain gasoline due to limited supplies. Power was restored three days after the quake. The printing press is about two hours drive from the coastal line, and vehicles are unable to enter the area due to disruptions of highways. Helicopters are used to deliver relief materials. The newspaper rotary press needs repair.
Industrial federations and local federations have launched their respective relief centers
Nihon-iroren
The Japan Federation of Medical Workers' Unions (Nihon-iroren) has launched its disaster relief task force led by President TANAKA Chieko. In its 24-hour operation, the task force collects information through Iroren affiliates about medical situation on the ground, including union members' safety.
Kenkoro
The All Japan Construction, Transport and General Unions (CTG, Kenkoro) is trying to collect information about the safety of union members in the affected areas as well as the situation of local organizations. At its 14th meeting, the Standing Central Executive Committee established a disaster relief task force on the great eastern Japan earthquake headed by FUJIYOSHI Shigeyasu.
Jichiroren
A five-member team of the Japan Federation of Prefectural and Municipal Workers' Unions (Jichiroren) led by Vice President SHIBATA Eiji arrived in Morioka on March 15 to establish a quake relief task force in the prefectural office. It held a meeting with the Iwate Jichiroren to discuss the present situation and immediate and longer-term relief work.
Fukushi-hoikuro
The National Union of Welfare and Childcare Workers (Fukushi-hoikuro) held an extraordinary leadership meeting and set up a disaster relief task force to begin collecting information and raising donations. It set up a blog in support of the quake-hit areas, enabling people to write in messages of encouragement and read information as well.
Kyoto Sohyo
The General Council of Trade Unions of Kyoto (Kyoto Sohyo) on March 1 established its task force for the relief of Great Eastern Japan Quake Victims, led by IWAHASHI Yuji. Its office opened within the Kyoto Sohyo office. It will share information about the quake-damaged areas and relief needs. At its first meeting, the task force decided to launch a fund raising drive in support of quake victims. Soon after the meeting, the Amalgamated Textile Workers' Union (Godo Sen'i) informed the task force that it began preparing to send towels to the disaster affected areas.