2011 Spring Struggle
Our demand for a substantial wage increase is justifiable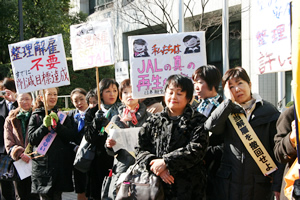 About 1,000 members of National Confederation of Trade Unions (Zenroren) and other unions participating in the National Joint Spring Struggle Committee took part in joint action in Tokyo on January 14 to mark the start of the 2011 People's Spring Struggle and called for a substantial wage increase and job security as the key to the country's economic recovery, and a minimum wage increase to at least 1,000 yen per hour. They converged on the Ministry of Health, Labor and Welfare in the morning and held a lunch hour demonstration in Marunouchi business district. In the afternoon, they moved to the headquarters of the Japan Business Federation (Nippon Keidanren). The government and business districts in central Tokyo resounded with workers' powerful voices.

At Health, Labor and Welfare Ministry

Workers press government to fundamentally revise the Worker Dispatch Law and raise minimum wage to 1,000 yen

At 11:00 AM, about 400 participants from various federations and unions in the metropolitan areas took to the streets near the Health, Labor and Welfare Ministry carrying union flags and banners.

Speaking on behalf of Tokyo's Joint Spring Struggle Committee, ITOH Jun'ichi said, "There can be no economic recovery without full-time jobs increased and wages, including the minimum wage, raised," and called for a far-reaching revision to the Worker Dispatch Law. He also demanded the reinstatement of 525 former Social Insurance Agency employees, who were dismissed when the agency was abolished, and 165 workers dismissed by Japan Airlines at the end of 2010. He expressed his determination to make every effort to strengthen the rules of dismissals.

The National Joint Spring Struggle Committee's secretary general, ODAGAWA Yoshikazu (Zenroren secretary general) said that this Spring Struggle is geared to win a wage increase for all workers as well as a minimum wage increase, stable employment and recovery of domestic demand. "We will make known to the public workers' desperate demands and express our support for the workers who are equally forced to endure the hardships in local communities in order to develop their common action," he added.

Representatives of various unions expressed their determination.

The Zenroren National Union of General Workers (Zenroren Zenkoku-ippan)'s general secretary, ENDO Akio said, "We will strengthen the movement to win a substantial increase in the minimum wage." On behalf of the struggle group of health ministry workers affiliated with the Japan Federation of National Public Service Employees' Unions (Kokko-roren), ITO Shigeo said, "We will continue to fight against the unjustifiable dismissal of former Social Insurance Agency workers as well as against wage cuts for government employees." The Kanagawa Prefectural Federation of Trade Unions secretary general, YAMADA Hirofumi, said, "We will do all we can to win a wage increase, beginning from local communities, by building on the successful enactment of a public contract ordinance in Kawasaki City." The chairman of the All Japan Construction, Transport and General Unions (CTG, Kenkoro), FUJIYOSHI Shigeyasu, said, "We will build up common action in the workplace and local communities for Japan's economic recovery."

After the rally, participants marched in demonstration through the Marunouchi business district.

At Nippon Keidanren

Workers urge large corporations to use a part of their internal reserves to increase wages for workers and payment for small- and medium-sized businesses

About 600 workers, after a demonstration in the Marunouchi district, arrived at the head office of the Japan Business Federation (Nippon Keidanren) at 1:00 PM. Zenroren President DAIKOKU Sakuji spoke on behalf of the National Joint Spring Struggle Committee. He said the public call for a part of the large corporations' 24 trillion yen in internal reserves to be used to raise wages is increasing and called for the further development of the struggle to protect the livelihoods of workers by raising voices for economic recovery through wage increase and job security.

CHIKAMURA Kazuya, president of the Japan Federation of Aviation Workers' Unions (Kokuren), criticized Japan Airlines (JAL) for carrying out dismissal for the purposes of reorganization. "We will do our utmost to get JAL to retract its unjustifiable dismissals so that we can protect society in which all workers can continue to work without worry and protect the safety of air travels," he said.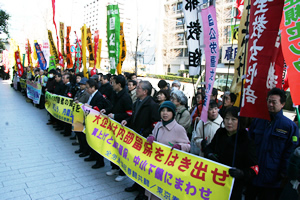 National Federation of Consumers' Cooperatives Workers' Unions (Seikyororen) President KUWATA Tomio said retailers are hardest hit by the economic downturn. He condemned the present situation in which many part-time and other contingent workers are only paid the minimum hourly wage and demanded that the minimum wage be raised to 1,000 yen per hour. Japan Federation of Prefectural and Municipal Workers' Unions (Jichiroren) general secretary, SARUHASHI Hitoshi said, "Japan's participation in the TPP free trade agreement will mean not only destroying our agriculture, forestry and fisheries but also leaving employment to the market forces." He stressed the need to increase domestic demand and establish an economic activity based on regional production and consumption.

TSUCHIYA Rimi from the women's center of the Kanagawa Prefectural Federation of Trade Unions, who is fighting against early termination of contracts with temporary agency workers at Nissan Motor Company, pointed out that profits for large corporations are produced by small- and medium-sized subcontractors. She said, "Corporate activity must help stabilize employment and further develop regional economies." She criticized large corporation for their authoritarian activities and called for the Worker Dispatch Law to be overhauled.

Zenroren's KUNIYOSHI Ayano read the "Declaration of the 2011 Spring Struggle." The participants applauded the declaration and turned to the Keidanren building to give shouts: "The large corporations must use a part of their internal reserves to raise wages, create jobs and increase payments to small- and medium-sized subcontractors." The area resounded with their powerful voices at the end of the day's action.