News in Zenroren Women's Committee

Women workers launch their union at supermarket chain in Kyoto and win right to take maternity leave

No woman worker has taken a maternity leave at a supermarket chain based in Kyoto just because they would be compelled to give up working there once they become pregnant.

Fresco is a supermarket chain that has 40 stores in Kyoto, 13 in Osaka, 10 in Shiga and 4 in Hyogo, all in western Japan. It employs 4,000 workers, including 600 regular full-time workers.

In the winter of 2009, a woman employee working for the grocery department got pregnant and asked the store manager to reduce workloads for her because she cannot carry heavy vegetables. The store manager said to her, "If you want to continue to work here, you cannot give birth to a child. We don't have such a job that you are requesting. No one is working here after childbirth."

Angered by the manager's response she decided to fight by joining a general workers' union affiliated with the National Confederation of Trade Unions (Zenroren) to fight the unreasonable treatment of women workers. In the fourth month of pregnancy, although in unstable condition, she dared to take part in negotiations with the employer "because my fate is involved.".

She worked until immediately before the day of delivery. She gave birth to a baby boy on June 9, 2009. She became the first woman employee at the supermarket chain to take a childcare leave and came back to the workplace in April 2010.

In the negotiation, the company told the union that what the store manager had said to her did not represent the company's view and promised to give the necessary guidance to store managers. The company uses the store managers' meeting and training sessions for employees to bring this policy home to everyone in the company.

The company also has begun to accept sexual harassment complaints.

Another woman employee is now on a maternity leave.

The Fresco branch of the union has made significant gains in just two years after its founding. Union members, both men and women, are continuing to fight for a workplace where they can continue to work.

Dispute at Shiseido and Infini
Union members converge on shareholders' meeting site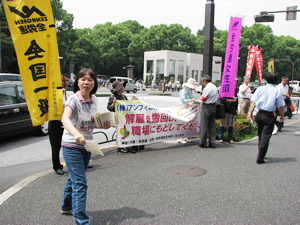 On June 25, near the site of the shareholders' meeting of Japan's major cosmetics maker Shiseido, women who were fired before the expiration of the term of contracts by Shiseido's subcontractor Infini staged a protest joined with members of the joint struggle committee in support of Infini workers in dispute, which includes Zenroren and the Kanagawa Prefectural Federation of Trade Unions. Participants in the action said, "Firing workers before the end of the term of contract is unlawful. We want to continue to work at the company."

The secretary of the union branch at Shiseido Infini said:

"I worked for more than 8 years as a line leader at the Kamakura factory. I was always the first to punch in and the last to punch out. Shiseido Infini laid off 22 women workers before the term of contract expired. I began to work at Shiseido as a temporary agency worker in 2001. At the time, companies were not allowed to use temporary agency workers for manufacturing jobs, so they used us illegally and fired us on the grounds that they no longer needed us. Such a way of dismissal is absolutely unacceptable. We will continue to fight in order to be reinstated to the workplace without delay."

From Zenroren, vice President SHIBATA Masako, IZUTSU Momoko, secretary for the contingent workers center, and ONISHI Reiko, secretary of the women's section, attended the action.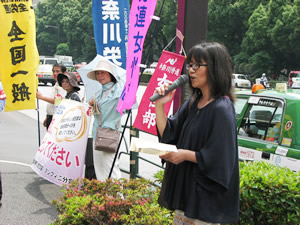 The shareholders' meeting was attended by 1,500 people. Many of them received the flyer. Some shareholders asked questions of protesters.

Shiseido began to use women temporary agency workers at the Kamakura factory even before 2004, when their use was outlawed. What is more, those temporary workers were doing the same work as regular full-time workers.

After the ban on use of temporary workers was lifted in 2004, the company failed to fulfill its duty to offer direct employment to temporary workers who have worked for more than three years. When the illegal practice by the company was exposed, Shiseido kept the temporary agency workers in the same workplace by treating them as independent contractors in order to evade legal restrictions.

In the production of lipsticks, Shiseido is consistent in dominating the staffing agency. The case of Infini is a typical example of the use of workers, who should be treated as regular full-time workers, are made to work as contingent workers. Worse still, Shiseido takes advantage of the weak position of Infini to unilaterally cut orders for orders, forcing Infini to curtail its production lines and carry out dismissals.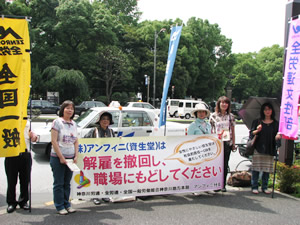 Even in times of economic recession, Shiseido is increasing profit. For FY 2009 (Apr. 2009-Mar. 2010), its operating profit was 49.9 billion yen. It increased to 50.4 billion yen in the next fiscal year. Dividends paid to shareholders amounted to 20 billion yen for FY 2009 (50 yen per share, up from 34 yen). Shiseido's dividends continue to be 50 yen per share for FY 2010. Shiseido President MAEDA Shinzo was paid 121 million yen for the last fiscal year. This shows the cosmetics maker has no good financial reason to carry out job cuts. The Shiseido group is aiming to become a global player representing Asia. It pretends to make much of women. However, in fact, it is cutting women workers' jobs.

On June 1, 2010, seven women who were dismissed by Shiseido filed a complaint with the Yokohama District Court demanding that Shiseido and Infini agree to revoke their dismissals, pay them wages, and pay damages. On the same day, a joint struggle council in support of Infini dispute was formed with the Zenroren women's section and the Kanagawa Prefectural Federation of Trade Unions supporting. This joint struggle council will help spread the struggle throughout the country to urge Shiseido to take corporate social responsibility.