Trade Union movementfs duty and possibilities as viewed from the etent cityf movement for laid-off temporary agency workers
INOUE Hisashi
Deputy Secretary-General
National Confederation of Trade Unions (Zenroren)

We took the initiative toward the end of 2008 in opening a gtent cityh to provide shelters for temporary workers who had lost homes as well as jobs. It was a product of the rapidly growing struggle against unilateral layoffs of temporary agency workers and for the Worker Dispatch Law to be revised, rather than a well-planned union initiative. In fact, we had been urged and compelled to put all energy in this project. With the problem remaining unsolved, we still have many things to do on this issue and therefore are unable to sit down to make calm analysis of what we have been doing. Nevertheless, as a person who was deeply involved in the gtent cityh project, I thought I should look back on this work and think about the union movement as viewed from this movement for laid-off temporary workers.

What compelled us to open a gtent cityh
On December 4, 2008, we held a rally at Hibiya Amphitheater to demand a fundamental overhaul of the current Worker Dispatch Law. Shortly after the successful rally, lawyer NATSUME Ichiro (member of the Labor Lawyers Association) said, gCan we go without rescuing drowning people?h This was a timely question.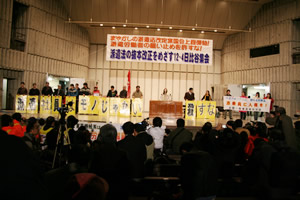 Newspaper and television news almost every day reported about corporations laying off temporary agency workers and fixed-term contract workers amid an economic downturn triggered by a global financial crisis that started in the United States. The effort of those dismissed temporary and other contingent workers to form their unions to fight for jobs began to spread rapidly. On December 3, fixed-term contract workers at Isuzu Motors founded their unions affiliated with the All-Japan Metal and Information Machinery Workersf Unions (JMIU). In a rare move, NHK -Japanfs public broadcaster- and other media gave wide coverage to their unionization. In the rally on the following day at Hibiya Amphitheater, participants were united, full of enthusiasm for the struggle. Speakers included those who had been laid off as temporary workers. One said, gLarge corporations must be held responsible for securing our jobs.h Another said, gI want to be alive on New Yearfs Day.h No one in the rally cared about the bitter cold.

Listening to lawyer Natsume and others speaking about the need to help those who were forced out of work and home, I frankly thought how burdensome it would be to engage in work to help them. It would be possible to provide hot meals and temporary accommodations to them during the New Year holidays. I had no idea as to what to do after that. It came to mind that it would be inevitable for us to confront the government if we are to rescue men and women who were denied the renewal of contracts as temporary workers or fixed-term contract workers.

That was the first issue we dealt with in a serious discussion launched by the gCommon Action for the Fundamental Revision of the Worker Dispatch Law,h which organized the December 4, 2008 Rally. This organizing committee consisted of trade unions from different national federations (Zenroren, Rengo, and Zenrokyo) and other labor groups as well as the Labor Lawyers Association. Representatives of these various organizations had heated discussions but were firmly united on the need to do something to help jobless workers in a state of homelessness.

On December 19, after lengthy discussions, they finally decided to open a gtent cityh for several days during the New Year holidays in Hibiya Park, which is in front of the Health, Labor and Welfare Ministry and also near the Imperial Palace so that we can let the government know the emergency situation involving people who lost jobs and became homeless at the same time. That was how we tried to urge the government to act to solve their problem.

The name of the tent city was gYear-end and New Year Shelter for Laid-Off Temporary Workers.h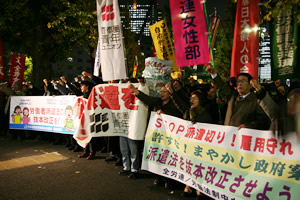 We decided to seek cooperation from citizensf organizations that have experience in providing hot meals and welfare assistance to people in need and from lawyers. We asked lawyer UTSUNOMIYA Kenji to become ghonorary mayorh of the tent city and YUASA Makoto, a leader of the anti-poverty movement, to become the gmayor.h

Considering that we had little time to prepare, we decided that the project should be sponsored by an organizing committee consisting of individual volunteers instead of organizations. We also began to raise money in donation.

How the tent city was organized
We announced the gtent cityh plan at a news conference on December 29, 2008. That was 10 days after we decided on it. We had delayed the announcement because we thought it would be necessary to avoid giving administrative authorities time to deny us a permit to set up tents in the park. Immediately after the news conference, the tent city office began to receive phone calls inquiring about the project.

Early on the morning of December 31, our staff arrived at Hibiya Park to be astonished by a large crowd near the Amphitheater. Many volunteers and reporters were there. We managed to set up tents and held a ceremony to open the tent city. In the ceremony, representatives of the three national federations -Zenroren, Rengo and Zenrokyo- spoke side by side for the first time since the reorganization of the labor front in the late 1980s. Rengo, which took part in this project technically in the form of supporting the National Community Union Federation (Zenkoku Union), sent staff members for labor counseling to the tent city and offered a cash donation.

Resident registration began after the opening ceremony. More than 70 people signed up for the shelter. They said they came to the park after learning about the tent city on TV and mobile phone websites. Many of them reached the site on foot on the previous day. Supporters also came and made cash donations. Some young people in their 20s donated 10,000 yen saying that their friends had been denied the renewal of contracts as temporary workers. A lot food stuffs, including rice and vegetables, and blankets were brought in. The storage tent was too small to keep supplies.

On January 2, supplies began to arrive at the tent city using parcel delivery services. The tent city received a total of 60 million yen in cash donation. More than 1,700 people signed up as volunteer workers for the tent city. Zenroren-affiliated union members worked with the staff under my instruction without identifying themselves.

Although we could not avoid confusion associated with the fact that the tent city grew much larger than expected, many men and women, young and old, took part in the work. They discussed among themselves to voluntarily distribute work, displaying their dedication from morning till night.

A total of 505 people signed up as tent city residents. They walked night and day to reach the gtent cityh after learning about it. They had lost homes as well as jobs as a result of merciless large corporationsf dismissals or termination of contract renewals. Most of them had never slept in the open. They hung around instead of getting to sleep. Some of them, who suffered from malnutrition as well as lack of sleep, were taken to hospitals.

At the gtent cityh, we offered counseling services regarding job-finding, living, and health care. We prepared a form for applying for official welfare assistance. The address of applicants was gYear-end & New Year Tent City, 1-5 Hibiya Park, Chiyoda Ward, Tokyoh because they had no home to live. We faxed the application forms to the Chiyoda Ward office. The applicants visited the ward office later and received money a couple of days later. We succeeded in having the local administration use the welfare assistance in line with its original purposes. In fact, that was the only viable way for those men and women who were in a state of destitution to begin to rebuild their living.

With the gtent cityh population continuing to grow, on January 2, we made representations to the Health, Labor and Welfare Ministry, and succeeded in having the ministry open its auditorium as a temporary accommodation facility. I think this became a turning point in our movement. After the gtent cityh period, its residents moved to four facilities in Tokyo arranged for January 5-12 by the ministry and the Tokyo Metropolitan Government, and began to find jobs and houses to live in. However, due to the ministryfs reluctance to continue assisting them after distributing some money for survival, the gtent cityh organizing committee helped them with accommodation while looking for places to live as well as jobs. They lived in group until February 4.

After that, many volunteers have been cooperating with them in finding secure jobs and helping them solve mental health problems. A team of volunteers providing them with mental and physical health care is playing an important role. There are many people suffering from work-related illnesses or injuries but cannot afford to receive necessary medical treatment because they are not covered by the work-related accident compensation insurance. Still many other people lost mental balance after being thrown out of work as temporary workers, whose human dignity was trampled upon.

In April 2008, the gtent cityh organizers gave a gSpring Counseling Sessionh for people in need, receiving their visits as well as phone calls. We help them apply for welfare assistance on the same day. We held the meeting every week until June to share experiences and information concerning the issue while giving counsel to laid-off workers. On June 28, we held a national symposium on this immediate issue. The gtent cityh organizing committee was dissolved because similar efforts to give counseling were unfolding throughout the country. Since then, former organizing committee members are meeting from time to time to encourage each other. They also continue activities to help in job finding and mutual support.

New possibilities to develop national common efforts
It is often pointed out that the extensive revelation of corporationsf cold-blooded dismissals of temporary workers and denials of their contract renewals infuriated the public. I think this change of winds served as a driving force for increasing public awareness of and the movement against mistreatment of temporary workers.

Amid the turmoil, not only those people who are experienced with the labor movement or with welfare assistance but also rookie attorneys-at-law, medical doctors, nurses, and social workers as well as students, homemakers and retirees have volunteered to work with us to help people in need apply for welfare assistance and maintain their minimum living standards.

In the course of continued counseling and assistance for laid off temporary workers and other people in need, more and more people have come to work with us. Thus, the idea of the gtent cityh project has become a major common effort in our country.

Various types of civic organizations helped us in dealing with happenings and difficulties. Their kindness toward our effort can be seen in sharp contrast with the large corporations shamelessly throwing off temporary agency workers or unilaterally dismissing fixed-term contract workers before the term expires. At a time when the poverty rate is rapidly increasing and economic inequalities are expanding, people are participating in activities in many ways to help other people without jobs and even homes to live. I think this suggests that it is possible to spread such common action.

Many young union members and students volunteered to work with us. I think these young peoplefs participation is the key to further developing our movement. We have received reports showing that young people are increasing their awareness of social and labor issues by taking active part in labor counseling and other activities similar to the gtent cityh initiative in various parts of the country.

Important development: Unions are in the center of the initiative and they cooperated in it regardless of national affiliation

It should be noted that the spread of this movement has been made possible by trade unions participating as the key players. Various unions were supportive in using their organizational power to consolidate the foundation of the gtent cityh project. Many people commented: gUnions have done a great job.h They were referring to unions cooperating with each other, regardless of their national affiliation, to take initiative in supporting laid-off workers who have lost their homes. I view this as a new necessary development arising from the labor issue of dismissals of temporary workers.

I also want to draw attention to the fact that various unions worked together regardless of national federation. This occurred 20 years after the major reorganization of the labor front. Most of the young union officers who volunteered to work for the gtent cityh project became union activists during these 20 years. It has become possible for unions with different national affiliation to break down the existing framework and join their forces to deal with the worsening conditions of workers and the increasing poverty rate.

I believe that Zenroren as a militant national trade union center has an important role in taking a lead in dealing with the immediate labor issues through promoting common union action. In this regard, I can say for sure that Zenroren, using its ties with various democratic organizations, including one that specializes in issues relating to social services, has actually played a great role in spreading activities similar to the gtent cityh project throughout the country.

Social movement is a part of Japanese labor movementfs traditions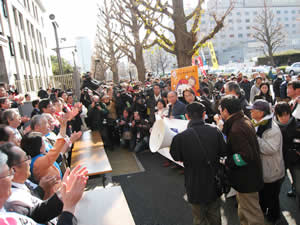 The gtent cityh movement and unilateral dismissals of temporary agency workers are being much discussed in many ways not only by the mass media but also by academics and critics.

Some ridicule company-unions at large corporations as gfull-time workersf clubsh because of their reluctance to voice against dismissals of temporary agency workers. Others try to pit full-time workers against contingent workers, virtually relieving large corporations of responsibility for their shameless dismissals of temporary workers and labor market collapse. Some of the advocates of gsocial movement unionismh tend to recognize only gcommunity unionsh as the bearers of the social movement, excluding industrial and other trade union federations from the movement and pitting community unions against the existing industrial federations.

These people talk about gthe Japanese labor movement that has new possibilities.h In my view, this is a one-sided view. History shows that the Japanese trade union movement has been the main player in the promotion of not only the anti-war cause but also on various national issues, including opposition to environmental destruction caused by pollution. However, with the Japanese labor front being reorganized, trade unions at large corporations came to focus on in-house affairs and the labor movementfs role as a social movement decreased, thus weakening regional joint action and organization.

All this shows that Japanfs trade union movement is in a process of revitalization. In a sense, our movement is called upon to build on the good traditions of the Japanese trade union movement and the principles to achieve new development in dealing with the present issues of labor market collapse and the widening gap between poor and rich.

New initiative for job creation beginning in regions

The gtent cityh project grew into a major social movement because of the increasing poverty rate and the widening economic inequalities and because the state of contingent workers and poverty are a matter of major concern for many people. However, despite progress achieved in the movement, the present-day situation is very serious. Unemployment is further increasing and main railway stations in many regions look like gtent citiesh, and in many areas, the number of people gathering to receive free hot meals has increased twofold or threefold. Many of those who came to the tent city at Hibiya Park are still having difficulty finding jobs. In fact, only 20 percent of them have found their new jobs.

The governmentfs employment policy has been piecemeal. The government is slow in urging large corporations to fulfill their social responsibility. Along with measures to improve the safety net, the government should take effective measures to stop the labor market collapse, including a fundamental overhaul of the Worker Dispatch Law, and to advance worker protection measures. The trade union movement must be united in order to advance worker protection measures.

In our effort to break through the present serious realities of employment, create stable and quality jobs, and revitalize the Japanese economy led by an increase in domestic demand, we must develop a united movement for jobs in each region. Our gtent cityh project planted seeds for a national movement for jobs.