5,200 attend National Youth Rally in Tokyo
The 2010 National Youth Assembly was held on May 16 at Meiji Park in Tokyo with about 5,200 people attending to voice their demand for decent life, decent jobs and work with dignity. Participants called for the Worker Dispatch Law to eliminate loopholes through a fundamental revision. They also resolved to increase solidarity among young people in the struggle to get out of the status of contingent workers and to change workplaces as well as society.

The organizing committee for the national assembly consisted of the National Confederation of Trade Unions (Zenroren) youth section, the Metropolitan Area Community Youth Union, and the All-Japan Federation of Student Unions. The event, which is the sixth and the first in two years, had the largest attendance ever.

Let us fight hand in hand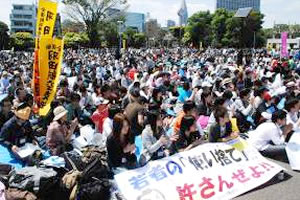 Those participants who had been dismissed as temporary agency workers spoke about how they had been forced to endure harsh conditions and how they fought in courts.

SUZUKI Shigemitsu, a 37-year-old worker, who has been demanding that Mitsubishi Fuso Truck & Bus Corporation directly since he was denied the renewal of contract as a temporary agency worker there, said, "I was most glad to see 20 people joining me in an early morning publicity at the factory." He also said, "My friends said to me, 'Hang on!' and I have been able to continue to fight. We must not forget that no one can make his or her way without help from others, who might offer him or her words and power."

Speaking on behalf of the Anti-Poverty Network, a coalition made up of trade unions and lawyers, UTSUNOMIYA Kenji (chairman of the Japan Federation of Bar Associations) said, "In solving the problem of poverty, it is essential to raise voices by expanding the network of individual people. I ask you to join us to fight poverty."

Anti-Poverty Network Secretary General YUASA Makoto said, "Just try to begin to walk hand in hand, take part in activities just as your friends are doing. I hope that the present crisis that 'occurs only once every 100 years' will be remembered 10 or 20 years later along with the struggle to overcome it."

After the assembly, participants walked in demonstration through central Tokyo holding placards reading: "Eliminate economic inequalities and poverty"; "Create more jobs"; and "How should we pay money for exercising the right to education?"

That's how temporary agency workers are treated
Participants took part in discussions in 20 workshops. In one workshop on "temporary agency workers and other contingent workers," participants, who are fighting in court against large corporations, spoke about illegal labor practices.

A participant from the Mie Community Union exposed how he had been illegally used by a Panasonic subsidiary as a temporary agency worker in violation of the law that prohibits employers in manufacturing from using temporary agency workers. Until March 2009, he worked for 5 years and 7 months at the company's Yokkaichi plant. He was assigned to the resin molding section although the contract was for "research" work, which is one of the 26 job categories that are allowed by law to use temporary agency workers as long as the employer wants. The law prohibiting the use of agency workers for manufacturing jobs was still in force. This means that the Panasonic subsidiary lied about his job category.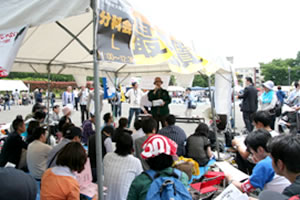 The reason the staffing agency gave for his dismissal was that it was told by the Panasonic subsidiary to do so. More than five years after beginning his career there, he was a skilled worker giving advice to regular full-time workers who taught him everything when he began to work there. He said, "I realized at that time that this is what a temporary agency worker is about. I felt empty when I was fired."

He is demanding that the staffing agency revoke his dismissal. The case is pending in the Tsu District Court. He said, "I had no intention to bring the case to court because I could not afford to do, but I was compelled to do so because of the company's continued refusal to talk to me. I want to marry my girlfriend." He said he had a difficult time when she opposed filing a lawsuit. "I want to settle the case as soon as possible so that I would be able to spend more time with her," he added.

A supermarket employee wins the right to maternity leave
In a workshop on the labor law and the merit of joining the union, the Tokyo Metropolitan Community Youth Union deputy secretary-general, YAMADA Shingo spoke about the prevalence of forced overtime work without pay, employers' failure to pay for social insurances for employees, and other illegal labor practices, referring to young people who stood firm against mistreatment.

A man from the Community Union South Winds in Kyoto spoke about the union's experience in putting up a successful struggle to force a company to allow a woman supermarket employee to take maternity leave by retracting its earlier demand that the employee give up her job if she wants to give childbirth. In that workplace, employees founded their union in 2008, when they demanded overtime pay. He said, "Our women workers came to voice their demands concerning menstrual leave and maternity leave. Because we are unionized, we can strive for a workplace where we can work as much as we can without serious problems."

On May 17, the Organizing Committee for the National Youth Assembly sent its representatives to the Health, Labor and Welfare Ministry and the Education Ministry and explained the immediate needs of young people. They urged the HLW Ministry to fundamentally revise the Worker Dispatch Law, raise the minimum wage nationally to at least 1,000 yen per hour, eliminate forced overtime work without pay, extend the term of payment of unemployment benefits. At the Education Ministry they demanded measures to reduce household burden for high school and higher education; jobs for highs school and university graduates; and the establishment of regulation to ensure that university students can look for jobs and study at the same time.