2010 International Women's Day −March 8−
Japanese women celebrate 100th anniversary of International Women's Day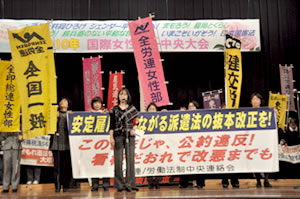 Japanese women across the country on March 8 marking the 100th anniversary of the International Women's Day held a rally to call "for measures to protect employment and people's livelihoods and create a nuclear weapons-free and peaceful world!"

The International Women's Day Central Rally took place with about 800 participants in Tokyo. In a rally, U.N. Secretary General Ban Ki-moon's message and other messages received from women within and outside Japan were distributed.

On March 8 1923, Japanese women for the first time celebrated the International Women's Day. At that time, the pre-war Japanese government pushed ahead with its attempt to invade China and Japanese women had no equal rights such as the right to vote. The first International Women's Day rally calling for liberation of Japanese women was held under the police surveillance and was forcibly cut off by the police.

It was 1947 when Japanese women were able to celebrate the International Women's Day again. Since then, the rally has been held every year. Japanese women have developed their solidarity with other country's women demanding gender equality and world peace.