2010 Spring Struggle ―March 4 Day of Action―
3,000 workers take part in Day of Action for wage increase and jobs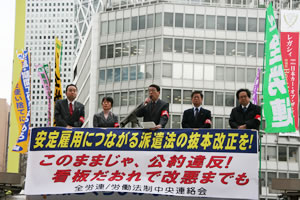 With employers set to offer unions their wage plans on March 17, about 3,000 workers from various unions from around the country took part in a Day of Action for Victory in the Spring Struggle, better known as "General Action in Kasumigaseki(*)"organized by the National Confederation of Trade Unions (Zenroren) and the People's Spring Struggle Joint Committee. They started the day of action early in the morning at several railway stations calling on commuters to together demand a wage increase and decent jobs. Actions included a rally of the transport workers joint struggle committee, demonstration at the National Personnel Authority and the Health, Labor and Welfare Ministry, a rally by all Day of Action participants, a march in demonstration to petition the Diet (parliament), and various other actions by participating federations.

(*)Kasumigaseki is a government office district in central Tokyo.

Participant in Zenroren's early morning publicity campaign at Shinjuku Station called for a fundamental overhaul of the Worker Dispatch Law to restrict the use of temporary workers and improve their working conditions. Zenroren President Daikoku Sakuji took the microphone and said that the current government bill to revise the law contains many loopholes even though it in principle will ban manufacturing from using temporary workers and ban the use of temporary workers on an on-call basis. "The use of temporary workers should be restricted to contingent and temporary jobs. We will continue to work to press employers to offer all temporary workers equal treatment as regular full-time workers," he added.

Actions in front of the National Personnel Authority and the Health, Labor and Welfare Ministry

Calling for a fundamental revision of Worker Dispatch Law and a minimum wage increase

After various actions held by federations during the hours before noon, 1,700 Day of Action participants assembled on sidewalks in front of the National Personnel Authority and the Health, Labor and Welfare Ministry to stage the main action of the day calling for the eradication of poverty and economic inequalities, wage increase, job security, and expansion of domestic demand. The crowd overflowed into street. Speaking on behalf of the Day of Action organizers, Zenroren President Daikoku Sakuji said, "It is said that the economy has hit the bottom, but that does not how the general public feels about the economy" and stressed that wage increase as well as a raise of the minimum wage is essential. Referring to large corporations asserting that it is impossible to use a part of their internal reserves, Daikoku exposed the fact that they are using them to pay dividends to shareholders and urged large corporations to use a part of their internal reserves to benefit workers and small- and medium-sized businesses, so that the nation's economy can be shifted to one enabling people to spend more.

All Japan Construction, Transport and General Workers' Union (Kenkouro) President Sato Ryoichi arrived at the rally after petitioning the Ministry of Land, Infrastructure, Transport and Tourism and spoke on behalf of the joint struggle committee of transport workers in solidarity with the rally. Sato emphasized that the increasing poverty rate and the widening gap between poor and rich are enraging the public and that growing public awareness and struggles in protest against the adverse economic policy led to a change in government. "The main direction of the transport industry is one of calling for stricter regulatory reform to be implemented with the aim of establishing transportation safety," he added.

In their speeches representatives of various labor organizations stated:

"About 70 people who were dismissed as part of a massive job cut at the then Social Insurance Agency have filed complaints with the National Personnel Authority against the dismissals. We must not allow a government body in charge of protecting workers rights to fire its employees. We will continue to fight together with contingent workers to defend public services linked to medical and welfare services" (Japan Federation of National Public Service Employees' Unions-Kokko-Roren).

"The governing party promised to get the health insurance system for the elderly aged 75 and over abolished, but the legislative measure for it has been shelved. The government has failed to take budgetary steps to forgo raising the amount of contribution to the discriminatory health insurance from April, a betrayal of the public call. We are determined to make every effort to win an increase in base pay and improve workplaces that secure jobs for workers (Japan Federation of Medical Workers' Unions-Nihon-iroren).

"We have petitioned Dietmembers almost every month for the minimum wage to be raised to 1,000 yen. We are concerned about the ongoing moves toward raising the consumption tax rate. We will work harder for increasing opposition to it. Little progress has been made in the move toward improving working conditions for part-time workers despite the revision of the law (National Federation of Consumers' Cooperatives Workers' Unions-Seikyororen).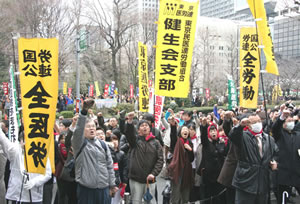 "When a childcare center staff member, who had been employed for 17 years as a contingent worker by renewing contract, was forced out of work, she was encouraged by the union to fight against the dismissal and joined the union. After school care programs, school lunch services and school cleaning have been outsourced to the private sector. There are even local governments that use temporary workers in the guise of independent contractors. We must stop the bill to revise the Worker Dispatch Law from being enacted because of loopholes. Let us submit to the Diet as many signatures as possible bearing the demand for a minimum wage increase" (Kyoto Federation of Prefectural and Municipal Workers' Unions-Kyoto Jichiroren).


Spring Struggle Rally for Victory

We need a raise all the more because we are in time of economic downturn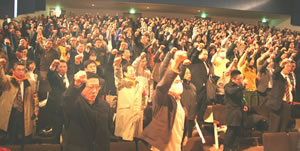 At around 2:00pm, Zenroren and the Spring Struggle Joint Committee held the Spring Struggle Rally for Victory. Speaking on behalf of the Joint Committee, Secretary General Odagawa Yoshikazu (Zenroren secretary general) made the following points: (1) more unions than ever have submitted their demands for wage increase; (2) they are aggressive in setting their wage increase demands, including one for 40,000 yen increase demanded by the National Union of Welfare and Childcare Workers-Fukushi-Hoikuro); (3) local efforts to get a local ordinance enacted to establish provisions to protect workers' rights and livelihoods; and (4) a rise in the minimum wage and revitalization of local economies are sources for increasing domestic demand. "Let us take advantage of the ongoing changes and wage a strenuous struggle for the eradication of poverty and economic inequalities, expansion of domestic demand and job creation," he added.

Referring to the current status of the Spring Struggle, he said, "Most unions in the private sector have submitted their wage increase demands. Most of the unions affiliated with the Japanese Trade Union Confederation (Rengo) have given up on demanding a rise in basic salary. Basic salaries can be raised if employers use a part of internal reserves held by large corporations. We will expose corporate tyranny and win a wage increase of more than 10,000 yen. Let us develop a broad joint struggle and dialogue and make our Spring Struggle more visible and audible."

Odagawa called for all union members to participate in the nationwide concerted struggle scheduled for March 18, on which the Postal Industry Workers' Union (Yusanro), the Telecommunication Industry Workers' Unions (Tsusshinroso), Zenroren-National Union of General Workers (Zenroren-Zenkoku-ippan) will go on strike.

Several participants expressed their determination:

"We will call on union members in each administrative branch to broaden dialogue and develop a united effort in a way that makes government workers visible in local communities" (Japan Federation of National Public Service Employees' Unions-Kokko-Roren).

"We took part in the tent city project for temporary workers who have lost not only their jobs but also places to live. We found the safety net crumbling. While demanding a healthier fiscal situation, government employees and private sector workers will join efforts to get rules of employment established" (Japan Federation of Prefectural and Municipal Workers' Unions-Jichiroren).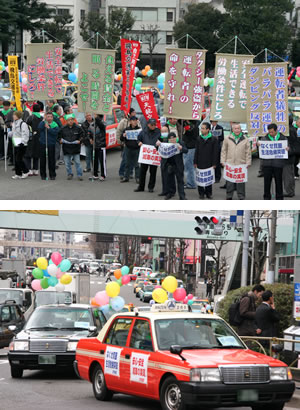 "We will tenaciously demand a maximum class size of 30 students. We will also fight to protect children from poverty and economic inequalities" (All-Japan Federation of Teachers and Staff Union-Zenkyo).

On behalf of the private sector unions, a participant from the Zenroren-National Union of General Workers-Zenroren-Zenkoku-ippan expressed determination by stating, "We have had dialogue with 200 shop owners in shopping districts of Miyagi Prefecture, asking them to put up the poster for the campaign against a consumption tax increase. We will join forces with them in the struggle."

Separately, various joint struggle organizations as well as various federations took their respective actions. The transport workers' joint struggle committee held a rally in the morning at Meiji Park in central Tokyo, attended by 300 workers, joined by some from public service and medical unions. After the rally, participants marched in demonstration mobilizing 50 trucks and taxi cabs. In front of the transport ministry, about 1,000 people took part in petitioning.

A symposium was held by the Japan Federation of Medical Workers' Unions (Nihon-Iroren) and the Japan Federation of Prefectural and Municipal Workers' Unions (Jichiroren) to discuss the issue of excessively long working hours and night shifts, attended by 400 people.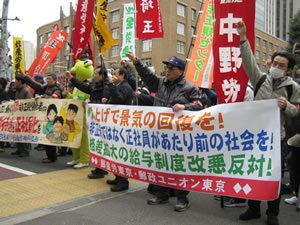 Workers from the Postal Industry Workers' Union (Yusanro) assembled at the head office of the privatized Japan Post to demand improvement in the treatment of the 220,000 contingent workers. In the afternoon they held a meeting in the Diet and petitioned the Japan Post and the Ministry of Internal Affairs and Communications, handing written requests to their officials.