Allowing for overtime work of up to 100 hours a month is unacceptable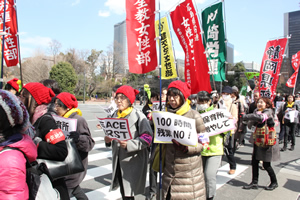 Zenroren criticizes government-labor-management agreement on overtime regulations
Statement by
HASHIGUCHI Norishio, Deputy Secretary-General of the National Confederation of Trade Unions (Zenroren)
March 14, 2017
It has been reported that The Japan Business Federation(Keidanren) and Japan Trade Union Confederation(Rengo) on March 13 reached agreement on limiting overtime work hours. The issue has been discussed at a government Council for the Realization of Work-style Reform".
They agreed that the law would allow for overtime work (1) up to 720 hours per year, (2) up to 80 hours on the monthly average over a period of 2 to 6 months, or (3) up to 100 hours per month. It also allows for monthly overtime of more than 45 hours for a total of 6 months.
The National Confederation of Trade Unions (Zenroren) rejects this agreement that makes it legal to force workers to work up to the so-called "karoshi line." The Japan Business Federation (Keidanren) is discussing with the Japan Chamber of Commerce and Industry (Nissho) and the Japan Association of Corporate Executives (Doyukai) to find an agreement on this direction. But Japanese Trade Union Confederation (Rengo), which represents labor on this panel, has never reached out to other labor confederations for discussion.
Worse still, they agreed on postponing the application of the new limits to overtime hours until sometime in the future for including truck drivers, who are particularly forced to work overtime. The agreement only calls for employers to make efforts to allow for intervals for rest, which is a measure essential to keep biorhythm. This will leave those workers without being paid for overtime work based on hours actually worked. Also, it has no mention of scrapping "expansion of the discretionary work schedule system" and "the establishment of a category of highly professional workers" that will force workers into unpaid overtime work without limits.
The current government standards for certifying an illness involving brain or cardiac diseases are applied on the basis of the worker's actual health problem by stating "if a worker had worked overtime beyond 45 hours per month over a period of a month or six months before falling ill, the link between the worker's health problem and the job he or she had been doing would be stronger." That's why many of those who have become ill or suffered injuries in the workplace have been recognized as having work-related health problems even though their actual overtime work hours were less than 80 hours.
There have been court rulings that forcing workers to work overtime beyond 80 hours would offend public order and morals. If the agreement that has been reached is included in the Labor Standards Law, it is likely to go against the previous court judgments and the standards for certifying workers' accidents or health problems as work-related.
Some people seem to be showing the agreement in a favorable light by saying that it will for the first time set limits to overtime hours in the Labor Standards Law. Just think of what would happen on the ground and you will realize that the agreed measures will have harmful effects.
The latest agreement says that 720 extra hours of work per year would be permitted only if a company is forced to temporarily increase the amount of work. How aberrant it is to allow for a maximum of 720 overtime hours per year! If workers are very busy all the time and forced to work 45-60 extra hours a month, that's because of a dearth of hands. Such companies should employ more workers to solve the problem. If the company experiences such trouble all the time, it should review the way it is doing business. None of these explanations can be used as the reason for easing overtime regulations.
Prime Minister Abe in his policy speech in the Diet referred to a death from overwork at advertising agency Dentsu, so did Health, Labor and Welfare Minister SHIOZAKI Yasuhisa. They pledged to make efforts to rectify the excessively long working hours by expressing determination to prevent the recurrence of a tragedy of this kind. The government-labor-management agreement says they are determined to make decisive efforts to eradicate deaths and suicides from overwork. However, making it legitimate to allow for overtime hours up to 100 hours is an act reneging their promise.
The agreement certainly says, "limits to overtime hours is set at 45 per month and 360 per year in principle," but the 8-hour day and 40-hour workweek are the legal standards. The Labor Standards Law provides that overtime work must not exceed 45 hours per month and 360 hours per year. We demand that the agreement to set nominal limits to overtime hours be revoked and that a process of considering regulating working hours based on the principles be resumed without delay.